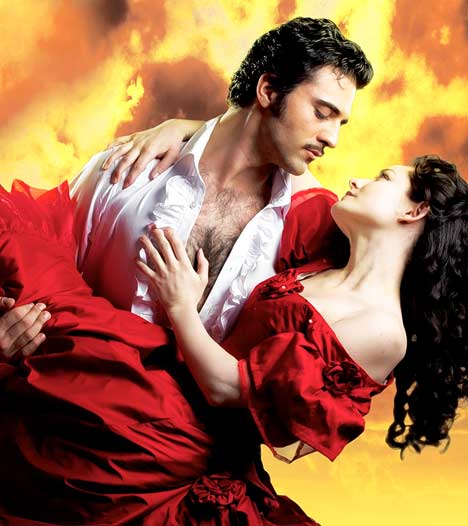 By Ray Bennett
LONDON – Tomorrow is another day for Scarlett O'Hara but how long that will remain true for the new musical "Gone With the Wind" is another question.
Three-time Tony-winning director Trevor Nunn has delivered a long-winded show with rushed scenes, dull music and lyrics so banal that Rhett Butler is unlikely to be the only one who doesn't give a damn.
All the familiar characters are there, but without the book or the film in mind, they would not add up to much. Jill Paice (pictured with Darius Danesh), Broadway star of "Curtains" and "The Woman in White," works hard as Scarlett, but the songs put too much strain on her pleasing but delicate voice.
Danesh, who won fame on the U.K. television show "Pop Idol," does a much better job of channeling Clark Gable as Butler. He's a fine singer and not a bad actor. The rest of the cast have the burden of delivering a series of musical numbers that, unusually for a musical, are not listed in the program.
North Carolina gospel singer NaTasha Yvette Williams, who played Sofia in Broadway's "The Color Purple," and London stage veteran Ray Shell lend their joyous vocal power to one or two songs that have a gospel influence but have forgettable melodies and familiar phrases like "All God's children born to be free."
Supposedly based on the best-selling Margaret Mitchell novel rather than the Oscar-winning 1939 movie, the production mirrors the film closely except that it places tedious songs where character development and genuine drama should be.
Without a lot of scenery, Nunn's regular designer John Napier must rely on the large spaces of the New London Theatre with a movable porch for the Tara and Twelve Oaks estates and a long balcony. All the action takes place on the theater's large, bare apron stage, with characters chasing off through the audience via several gangways.
Most of the big set pieces are merely described by the chorus so that epic scenes are reduced to spoken exposition. To depict the burning of Atlanta, a large Georgia flag is set on fire while some scenery in the balcony collapses and cannons boom offstage.
The show is a first-time effort by Los Angeles resident Margaret Martin, who has a doctorate in public health from UCLA and among other things runs the Harmony Project, which provides free music lessons to underprivileged children in Los Angeles.
She obtained the rights from the Mitchell estate and took the work to Nunn, whose musical hits include "The Life and Adventures of Nicholas Nickleby," "Cats" and "Les Miserables." For the British director, this appears to be one literary classic too much.
Venue: New London Theatre, through Nov. 27; Cast: Jill Paice; Darius Danesh; Edward Baker-Duly; Madeleine Worrall; NaTasha Yvette Williams; Jina Burrows; Julian Forsyth; Susannah Fellows; Ray Shell; Jacqueline Boatswain; Based on the novel by Margaret Mitchell; Book and lyrics: Margaret Martin, adapted by Trevor Nunn; Music: Margaret Martin; Director: Trevor Nunn; Executive producer: Aldo Scrofani; Set designer: John Napier; Costume designer: Andreane Neofitou; Lighting designer: Neil Austin; Movement director: David Bolger; Sound designer: Paul Groothuis; Musical director: David White; Presented by Aldo Scrofani, Colin Ingram, Gary McAvay, Nederlander Presentations, Peter Kane.
This review appeared in The Hollywood Reporter.