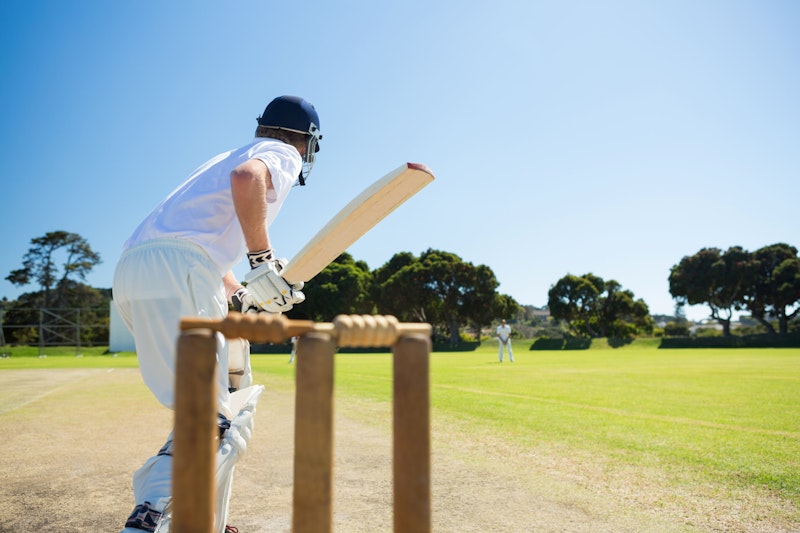 By Ray Bennett
LONDON – Thirty years ago today, the Los Angeles Times published a freelance story of mine about the popularity of cricket in parts of Los Angeles. Here's that story:
A cricket ball is 5 1/2 ounces of furious flying red leather. It comes at you at speeds in excess of 100 m.p.h.
No wonder cricket players take their time.
You can see them every weekend throughout the summer in Woodley Park at the Sepulveda Dam Recreation Area in Van Nuys. There are 34 cricket teams in the Southern California Cricket Assn. (another 25 in Northern California) and three one-day matches are played simultaneously on three fields at Woodley each Saturday and Sunday.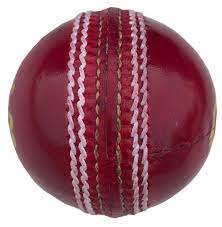 A cricket game in play appears almost casual, with nine of the 11-man fielding side dressed in white and standing scattered about the field. In the center is the actual cricket pitch where, 22-yards apart, stand two sets of wickets–three sticks of wood, called stumps, with two wooden plugs, called bails, perched on top.
At one end, a batsman with padded legs, gloves and helmet, prepares his flat-faced bat to defend his wicket. Behind him and the stumps, a wicket-keeper in fat gloves and pads, stands guard, squatting like a baseball catcher.
At the other end, the batsman's partner (two batsmen always take the field together, switching ends as they score runs) stands ready to run. The 11th member of the fielding team is the bowler (think pitcher). If he's a fast bowler, he's probably far off in the distance. It's when he gallops toward the wicket, gathering steam all the way, and with a straight arm lets fly that angry scarlet sphere that cricket suddenly becomes very intense.
The batsman's job is to prevent the ball from hitting the stumps and dislodging the bails, to avoid popping the ball up to be caught, and to knock the ball far enough that he can score runs.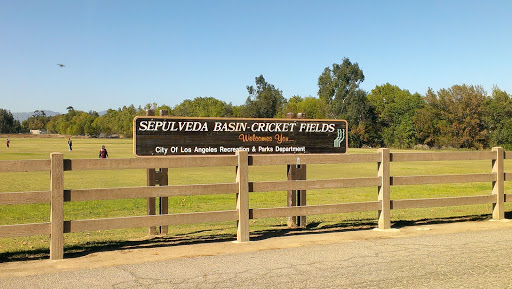 Organized cricket in the United States dates to 1834 in Philadelphia, and although it has never achieved the widespread popularity it enjoys in most former British colonies, it has a solid core of devotees from New York to Illinois, from Pennsylvania to Florida, and in California.
Most players are first- or second- generation immigrants from cricket-playing nations. Denis McGregor Stuart, 53, a manufacturing engineer who lives in Canoga Park who also is director of the Orange County Cricket Club (one of eight based at Woodley) and vice president of the U.S.A. Cricket Assn., Western Zone, hails from Guyana.
"In the West Indies, all we do is play cricket," Stuart says.
Stuart was one of the organizers of the July 4th weekend U.S. trials to select an all-star team that will compete in Kenya next year for a berth in the 1996 World Cup championships to be played in India, Pakistan and Sri Lanka.
"There are three spots open," Stuart says, "and the U.S. has an excellent chance of getting there."
Wicket-keeper Moin Refaie, 26, a health-food store manager who lives in Pasadena who was one of the young players competing in the U.S. trials, grew up playing cricket in Karachi, Pakistan.
"It's in the blood back home," says Refaie, who plays for the Corinthian Cricket Club based at Woodley. "When you're born, there it is."
Woodley Park was chosen as the site of the U.S. trials not least because it's regarded as one of the best cricket grounds in the country. The pitch is real turf, whereas elsewhere cricket usually is played on matting laid down over shale or concrete.
David Heaney, 52, a furniture importer who lives in Van Nuys, learned cricket growing up in Adelaide, Australia. He is director of the Pegasus Cricket Club, based at Woodley, and vice president of the Southern California Cricket Assn. He has been responsible for the grounds at Woodley since cricketers lost their old Griffith Park field to the Los Angeles Equestrian Center in the late 70s.
It was at Griffith Park that movie stars such as former England cricket team captain Sir C. Aubrey Smith, Boris Karloff, David Niven and Errol Flynn got the game off to a glamorous Hollywood start in the 1930s.
Now, everyone is delighted to be at Woodley, and two more cricket fields will be added by next year. "From a cricket-facility point of view, we're very, very fortunate," says Heaney. The Los Angeles Recreation and Parks Department has overall responsibility for the facility, and "without them, it wouldn't happen." he added.
The Southern California Cricket Assn. sponsors an under-19 youth program, with youngsters playing once a month, and a team of Golden Oldies that travels abroad every three years. On Labor Day weekend, Sept. 4-6, a Cricket Carnival will be held at Woodley, with two local elevens taking on teams from Canada and New Zealand. The regular club season carries on with playoffs through mid-November.
Spectators are few at games these days–a shooting incident in the park last Labor Day ended the music- and food-laden festivals that used to mark special cricket weekends. Lack of crowds, however, has not diminished enthusiasm of the players.
Englishman John Hayward, 71, a writer and publisher from West Hills and lifetime member of the Hollywood Cricket Club (based at Woodley), believes that baseball fans would cotton to cricket if they gave it a chance.
"Cricket is the grandfather of baseball, after all," he says.
Wicket-keeper Refaie says he could imagine playing baseball. "But I could never use a baseball glove," he says. "That seems weird. In cricket, we can catch with either hand or with both hands."
Denis Stuart cautions that although athletic skills are translatable from baseball to cricket, "cricket demands much more discipline. If you're batting, when you make a mistake there's no second chance. In baseball, you can come back. In cricket, when you're out you go to the dressing room and cry."