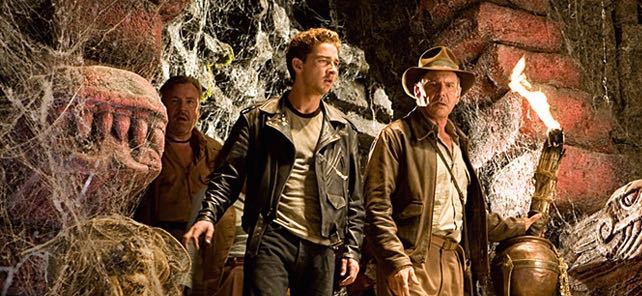 By Ray Bennett
LONDON – No question about what film will get the most attention at this year's Festival de Cannes. Steven Spielberg's "Indiana Jones and the Kingdom of the Crystal Skull" came in atop a list of the summer's most anticipated films with 82% declaring the picture the must-see movie of the year.
Filmmakers Spielberg and George Lucas along with star Harrison Ford will be on the Croisette for the Out of Competition world premiere of the Paramount film on May 18. It also will be screened in New York on that day and open in the UK and most of the rest of the world on May 22.
A lot more star power is headed to the Riviera for the festival's 61st edition including Clint Eastwood, Angelina Jolie, Benicio del Toro, Penelope Cruz, Woody Allen and Quentin Tarantino. Sean Penn heads up the Competition jury, which includes actress Natalie Portman and director Alfonso Cuaron ("Children of Men").
While Ken Loach's "The Wind and the Barley" and Andrea Arnold's "Red Road" claimed top awards just two years ago, there are no British titles In Competition this year with two possible contenders headed elsewhere.
James Gray's "Two Lovers," starring Gwyneth Paltrow and Joaquin Phoenix, and Laurent Cantet's "Entre Les Murs," starring Francois Begaudeau, complete the competition lineup. Fernando Meirelles' film "Blindness," starring Julianne Moore, Mark Ruffalo, Danny Glover and Gael Garcia Bernal, has been named as the opening film.
British director Steve McQueen's "Hunger," about the last six weeks of Irish republican Bobby Sands' prison hunger strike, has been added to the Un Certain Regard sidebar. Michael Fassbender from British TV's "Hex" and "Murphy's Law," who was also in the macho epic "300," stars as Sands.
Barry Levinson's "What Just Happened?" will close the festival as expected. It flopped at Sundance but it stars Cannes jury president Sean Penn and Robert De Niro, who has been tagged to present the Palme d'Or at the awards ceremonies.
Two young British writer-directors have won places in important Cannes sidebars this year. Writer and director Duane Hopkins, whose short films "Love Me or Leave Me Alone" and "Field" have won prizes at various festivals including Edinburgh, has earned a spot in Critics' Week sidebar with his first feature, "Better Things", about growing up in the Cotswolds.
Brighton's Thomas Clay, whose first film "The Great Ecstasy of Robert Carmichael" was screened in Critics' Week in 2005, will be in the Un Certain Regard sidebar with his second feature, "Soi Cowboy".
Neglected British veteran Terence Davies will see his low-budget documentary about hometown Liverpool, "Of Time and the City", screened Out of Competition. Artist Sam Taylor-Wood's "Love You More", written by playwright Patrick Marber and produced by the late Anthony Minghella, is entered in competition for short films.
Besides them and perhaps "Indiana Jones" costars such as John Hurt, Ray Winstone and Jim Broadbent, the only Brits likely to be on the Croisette this year will be Samantha Morton and Emily Watson who appear in "Synecdoche, New York", the first feature to be directed by Oscar-winning screenwriter Charlie Kaufmann ("Eternal Sunshine of the Spotless Mind"). It stars Philip Seymour Hoffman in a tale of a parallel universe in New York.
A version of this story appeared in Cue Entertainment.