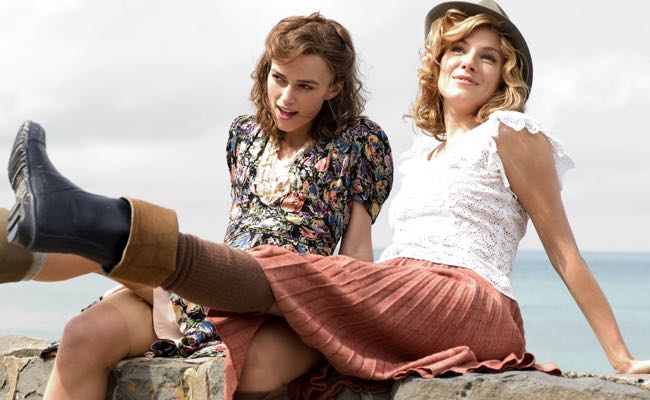 By Ray Bennett
LONDON – The Edinburgh International Film Festival, which has moved this year from its traditional August slot to June, announced its lineup today with 142 feature films from 29 countries including 15 world premieres.
The 11-day event opens June 18 with John Maybury's Dylan Thomas picture "The Edge of Love", starring Keira Knightley and Sienna Miller (pictured) plus Matthew Rhys. The closing night gala includes a screening of Vito Rocco's "Faintheart", a comedy starring Eddie Marsan, Jessica Hynes (formerly Stevenson) and Ewan Bremner.
Artistic Director Hannah McGill said: "We have a terrifically exciting program this year, which is the happy result of a very enthusiastic response from distributors and filmmakers. From powerful artistic and political statements to works of pure, escapist entertainment, I think this is a festival that reflects an active, vibrant world film culture – and suits the diverse and daring tastes of our audience."
Gala evenings will see screenings of Mark Doherty's "A Film With Me In It", José Padilha's Berlin winner "Elite Squad", Ira Sachs' "Married Life", Bharat Nalluiri's "Miss Pettigrew Lives For a Day", and Jonathan Levine's "The Wackness".
British films having world premieres include Charles Martin Smith's "Stone of Destiny", Kenny Glenaan's "Summer", Christine Molloy and Joe Lawlor's "Helen" and Matthew Thompson's "Dummy". They will compete for the UK Film Council-sponsored Michael Powell Award for Best British Feature with others including Oliver Blackburn's "Donkey Punch", which has its UK premiere.
Other highlights of the festival include Pixar's "WALL-E"; Shane Meadows' "Somers Town"; Duane Hopkins' "Better Things", fresh from Cannes; Brad Anderson's "TransSiberian"; and Isabel Coixet's "Elegy".
Documentaries on show will include Terence Davies' Liverpool film "Of Time and the City"; Werner Herzog's "Encounters at the End of the World"; James Marsh's "Man on Wire"; and Errol Morris' "Standard Operating Procedure".
A new sidebar called Under the Radar will include two world premieres: Martin Radich's "Crack Willow" and Robert Beaucage's "Spike". Directors' Showcase includes the world premiere of Bernard Rose's "The Kreutzer Sonata" while the Night Movies sidebar includes the world premiere of Steven Sheil's "Mum & Dad".
The Edinburgh gathering is expected to attract some major star power, not least from festival patrons and Oscar winners Sean Connery and Tilda Swinton.
This story appeared in Cue Entertainment.