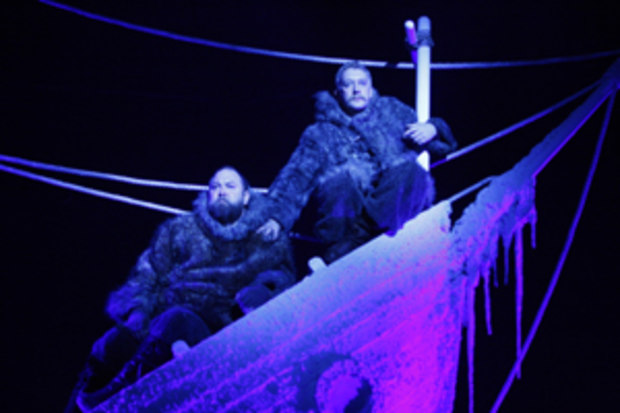 By Ray Bennett
LONDON — The title of British theatrical poet Tony Harrison's new play, "Fram," means "forward" in Norwegian, but a better name for it would be whatever in that language means "awkward."
"Fram" was the name of the vessel that Norwegian explorer Fridtjof Nansen (Jasper Britton) used to survey the North Pole in the late 19th century, and his epic journey forms part of Harrison's play. It gives designer and co-director Bob Crowley the opportunity to have the boat arise impressively from the bowels of the National's large Olivier stage.
The play is not only about Nansen, though. Related entirely in rhyming couplets, it's a saga supposedly created by British writer Gilbert Murray (Jeff Rawle) who emerges from his tiny bit of Poet's Corner in Westminster Abbey to mount a production at the National.
Murray brings along heralded British actress Sybil Thorndyke (Sian Thomas), who will later have a big scene in which she convinces various skeptics that a healthy thespian can make observers believe she is starving.
The awkwardness of Harrison's self-indulgent construction causes confusion in the historical facts of Hansen's polar exploration with crusty companion Hjalmar Johansen (Mark Addy) and his later campaigns on behalf of the starving people in Russia in the 1920s.
Harrison switches from Nansen's speech-making tours of British cities to high society encounters with potential benefactors and allows several minutes for a solo performance by ballerina Viviana Durante to no clear effect.
There are references to many cultural and philosophical things in the lengthy scenes, but they serve no obvious purpose. The mask of tragedy is compared to Edvard Munch's painting "The Scream," but its pertinence remains obscure. Video sequences showing scenes of the victims of the Russian famine, however, are affecting, and Thomas is utterly persuasive in her rendition of desperation.
Britton is quite jaunty as the dedicated explorer, and Addy has a few moments to shine as his suicidal shipmate. Harrison's poetry, however, is awkward, with a dogged reliance on simple phrases and clumsy rhymes.
Venue: National Theatre, runs through May 22; Cast: Jeff Rawle, Sian Thomas, Jasper Britton, Mark Addy, Viviana Durante; Playwright: Tony Harrison; Directors: Tony Harrison, Bob Crowley; Set designer: Bob Crowley; Costume designer: Fotini Dimou; Lighting designer: Mark Henderson; Music: Richard Blackford.
This review appeared in The Hollywood Reporter.