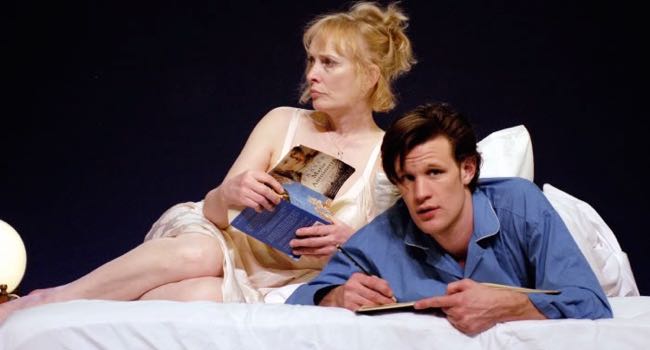 By Ray Bennett
Polly Stenham wrote "That Face," a play about the disintegration of a well-off family, when she was 19 but you wouldn't know it until the shrieking of two siblings and their estranged parents goes from strident to adolescent.
Staged last year by the Royal Court and now transferred to the Duke of York's Theatre in London's West End under the direction of Jeremy Herrin, the play has won plaudits for the young playwright, and there's little doubt that Stenham will go far.
Classy stage veteran Lindsay Duncan (pictured with Matt Smith) does a great deal to give more depth than is on the page to the portrayal of Martha, a once-beautiful woman now ravaged by alcoholism. There's no real accounting of her descent into a sort of refined squalor, her callous dismissal of teenaged daughter Mia (Hannah Murray) and adoring but selfish domination of artistic son Henry (Smith).
The absence of rich ex-husband Hugh (Julian Wadham), who's remarried and lives in luxury in Hong Kong, has much to do with it, but though he returns to deal with his squabbling family, not much more is revealed.
Stenham begins the play with a scene of torture in a private school that causes Mia to be threatened with expulsion and then cuts to an unkempt bedroom where Martha is lolling about in the sheets with Henry.
The incest is implied more than acted upon, and when Henry reveals that he has taken a lover, mumsy at first assumes it must be another boy and is quite pleased. When she discovers that his partner is female, she erupts with a nasty act of jealousy.
The increasing frenzy and unexplored background to events conspire to weaken the eventual confrontations, and an enigmatic ending doesn't help. Duncan is in perfect control as the self-indulgent and provocative mother, and Wadham brings an air of befuddled impatience to the father.
The younger actors do not fare so well, with Murray not best cast as a steely and sometimes cruel young woman and Smith encouraged to demonstrate from the outset that this mother's boy is seriously damaged goods.
Venue: Duke of York's Theatre, London (Through July 5); Cast: Lindsay Duncan, Matt Smith, Hannah Murray, Catherine Steadman, Julian Wadham, Rebecca Eve. Playwright: Polly Stenham; Director: Jeremy Herrin; Designer: Mike Britton. Lighting: Natasha Chivers. Sound: Emma Laxton.
This review appeared in The Hollywood Reporter.