By Ray Bennett
CANNES – The 30-year itch proves to be pretty much like the seven-year version in German director Andreas Dresen's "Cloud 9" in Un Certain Regard at the Festival de Cannes.
It's a cautionary tale about infidelity that suggests the temptations and pleasures are the same but so might be the consequences.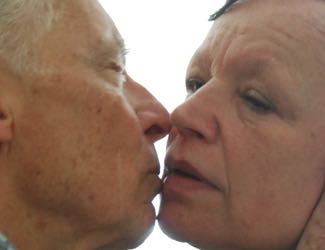 The film treats love among the elderly just the way most films deal with the youthful variety so it might attract older moviegoers curious to see their generation represented onscreen doing what comes naturally for once. It's doubtful that the general audience will be so inclined.
Dresen has his geriatric cast get naked and down to the hanky-panky right away as 60-ish seamstress Inge (Ursula Werner) finds herself all breathless and flustered when 76-year-old Karl (Horst Westphal) tries on the pants she's just altered for him.
It's not that she has fallen out of love with Werner (Horst Rehberg) after 30 years of marriage. It's just that poor old Werner, who likes to listen to recordings of locomotives and go for train rides, is a bit set in his ways. Karl likes riding his bicycle in the countryside, not to mention a bit of monkey business with another man's wife.
It's all good fun for a bit but, as many have learned, the piper must be paid.
This review appeared in The Hollywood Reporter.