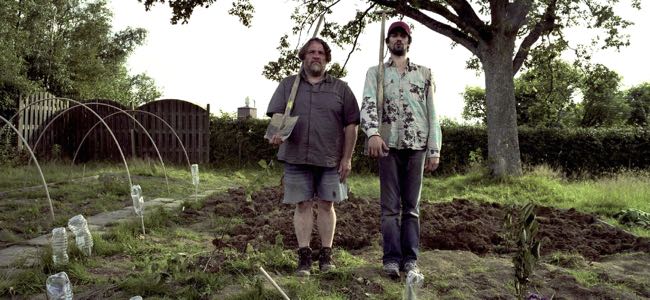 By Ray Bennett
CANNES – A couple of genial idiots in a beat-up Chevy hit the Belgian blacktops in Bouli Lanners's funny and melancholy road picture "Eldorado" with widescreen images that suggest the American West and a soundtrack to match.
Wacky rural humor and a yearning for country roads run smack into urban decay and city nightmares as Lanners puts his getaway trip into a hard U-turn in a story of ultimately frustrated generosity.
Pleasing in its look and sound, and often very amusing, the picture could venture beyond French-language territories and English-language producers may well see remake potential.
Lanners wrote the script and stars in the film as Yvan, an overweight and unkempt car dealer who arrives home one night to discover that an incompetent young burglar named Elie (Fabrice Adde) has broken in.
Weary and philosophical, Yvan does not call the police and ends up consoling the intruder who says he only needed money to make his way home to see his mother (Francoise Chicery). Still grieving over the death by overdose of his younger brother, Yvan knows a smackhead when he sees one, and after a couple of mishaps he agrees to give Elie a ride.
Never has Belgium appeared so spacious as the two of them set off for the border (France), crossing vast areas of farmland and rushing waters. Along the way, they encounter some weird and wonderful characters including a man (Philippe Nahon) who collects cars that have dents in them caused by hitting pedestrians who were killed in the collisions.
When Yvan, who is drunk at the time, drives the Chevrolet off the road, the person in a camper who comes to their rescue says his name is Alain Delon (Didier Toupy) and gets out of his vehicle naked. No one bats an eye.
Later, at a drive-by food-stand, faced with a pair of ostentatious bikers (Jean-Jacques Rausin, Renaud Rutten), Yvan and Elie are startled by the explosive sound of a Doberman, which has been tossed from a bridge overhead, landing on the roof of their car.
The dog's plight signals a downturn in the film's mood but Lanners has a firm grasp on where he wants the story to go and it plays out as a road picture with no fixed destination should.
Venue: Festival de Cannes, Directors Fortnight; Cast: Bouli Lanners, Fabrice Adde, Philippe Nahon, Didier Toupy, Francoise Chichery, Jean-Jacques Rausin, Renaud Rutten; Director, screenwriter: Bouli Lanners; Director of photography: Jean-Paul de Zaeytijd. Set designer: Paul Rouschop. Music: Renaud Mayeur, An Pierle & Koen Gisen; Costumes: Elise Ancion; Editor: Ewin Ryckaert; Producer: Jacques-Henri Bronckart; No MPAA rating, running time, 81 mins.
This review appeared in The Hollywood Reporter.