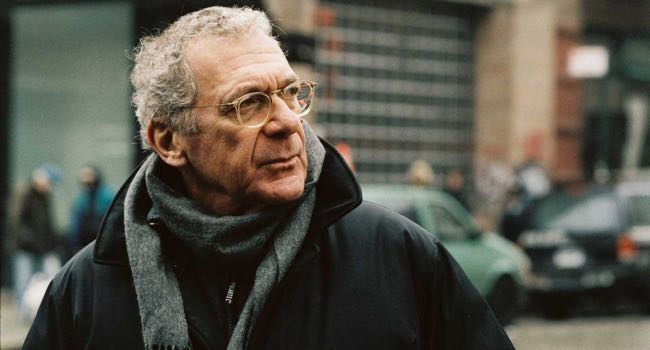 By Ray Bennett
Director Sydney Pollack, who has died aged 73, was a filmmaker who really knew what to do with music in his pictures and his longest collaboration with a composer was with the great Dave Grusin.
The filmmaker, who won two Oscars as producer and director of "Out of Africa" in 1986, told me when I interviewed him for The Hollywood Reporter in 2000 that he  first noticed Grusin when he scored Robert Ellis Miller's 1968 film "The Heart is a Lonely Hunter" .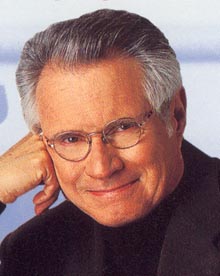 Pollack first worked with Grusin (left) on "The Yakuza" in 1974: ""I was just knocked out by how he was able to make the music have an ethnic feel of Japanese music but not seem strange to a Western ear. He was able to write melodically and lyrically. It's a very sort of oddball, I would say romantic action picture and his ability to catch those feelings was really extraordinary. I just sort of stuck with him through a whole string of pictures then."
Grusin was such a pleasure to work with, Pollack said, that he used him on his next film, "Three Days of the Condor" (1975) with Robert Redford (pictured below): "He did an extraordinary score to that picture, kind of a jazz thriller score with a very bluesy love theme done on a saxophone, as I remember. He always got great players. That score was unique. As a matter of fact, that score gets stolen a lot on public television and radio; it gets used over and over and over."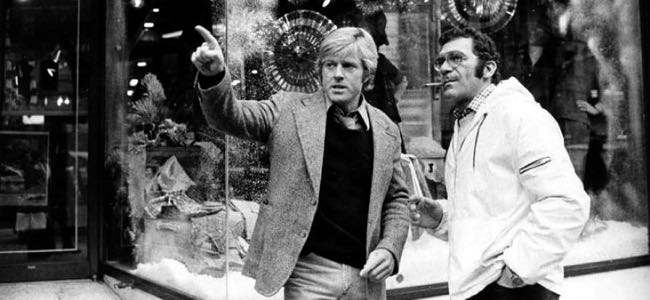 Pollack said he prefers to get the composer into the process quite early and he was able to do that with Grusin on a few films such as "Bobbie Deerfield" (1977),  "Tootsie" (1982), and "Random Hearts" (1999). Grusin also scored Pollack's "The Electric Horseman" (1979), "Absence of Malice" (1981) and "Havana" (1990) and the director said: "That was a great score. That's a score that got nominated, I think. It's a beautiful, beautiful symphonic score that I still play today."
He noted: "The thing about Dave is, and I think it's his blessing and in today's streamlined world, perhaps part of his curse, is that as a composer he's a chameleon, he can do anything. He really can do jazz; he can do classical, he can do extremely melodic stuff; he can do stuff that's ethnic."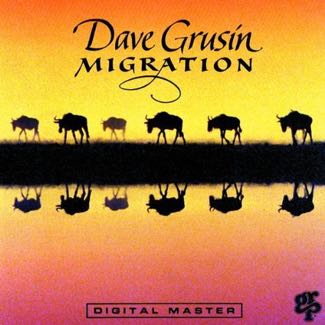 Pollack cited Grusin's Oscar-winning score for Robert Redford's "The Milagro Beanfield War" (1988, some of which is available on Grusin's "Migration" album) and his earlier score for Warren Beatty's "Heaven Can Wait" (1978): "That was a Brechtian score. That was a score that sounded like Kurt Weill. It had that kind of Kurt Weill sound to it. And then "Milagro" had that incredible Latin magical sound to it. And then for me, he got Japanese, or he'll get jazzy on "Condor," or extremely melancholy on "Dearfield," or symphonic in "Havana." His range is enormous."
The biggest risk Pollack took with Grusin was with the piano score to his 1993 Tom Cruise thriller, "The Firm". Pollack told me: "That's an amazing score. What happened was, I didn't know what to do. I wasn't sure I was gonna use Dave. I was thinking about him. I went to Memphis and down into the blues areas, and I thought this should be Dave because Memphis is a big blues town. Then I started thinking: But I can't hear a sound to this picture. Usually I can.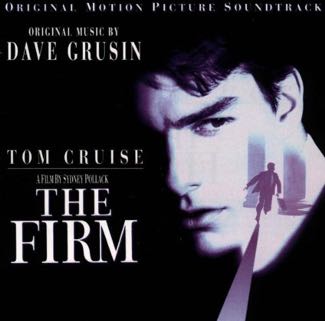 Pollack knew, however, that he did not want a conventional straight-ahead thriller score and because Grusin is such an accomplished musician he took him to the Cayman Islands while he was shooting there.
He said, "I sat with him on the piano at the hotel and just had him play blues, just little blues things. I thought that one of the things that would make it unique was if we were to do the whole thing with piano only. That would be a very audacious thing and the only guy in the world I thought could do it was Dave."
Scott Rudin, who was a producer on the picture with Pollack, agreed that was a terrific idea and supported the plan, Pollack said: "I think the studio was a little bit leery because they had a very commercial hot property in the book and suddenly this sounded a little bit weird. But then when they heard it, they all loved it. What he did was amazing because there is nothing but Dave and nothing but a piano in that entire score. There's a lot of music in that picture. "Ray's Blues" is great, that's a beautiful piece."
Here's the Pollack obituary in the New York Times and here's more about Dave Grusin