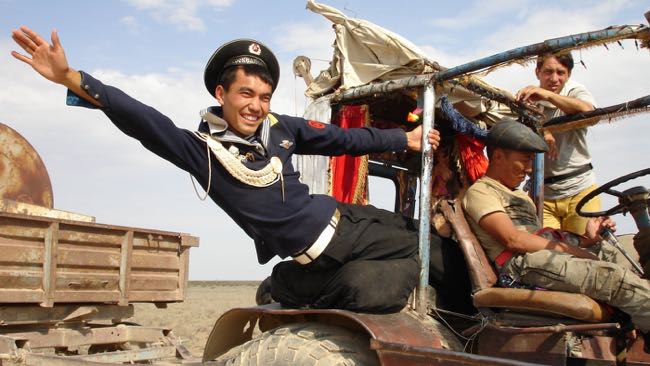 By Ray Bennett
CANNES: Polished, funny and utterly charming, Kazakhstan director Sergey Dvortsevoy's first feature film, "Tulpan," which won the top prize in the Un Certain Regard sidebar at the Festival de Cannes, tells of a family not only surviving but also relishing the harsh life of sheep- and goat-herders on a barren landscape.
Set on the bleak and windswept Hunger Steppe in southern Kazakhstan, 500 kilometers from the nearest city, it's about a nomadic peasant existence that demands hard work from everyone with pleasures few and far between. The film's universal story of conflict between generations and the way little eccentricities make life bearable will please audiences everywhere. "Tulpan" will thrive at festivals and art-houses and its accessible humor may lead the way to mainstream exposure.
Key to the movie's enjoyment is the unforced comedy that Dvortsevoy draws from the everyday activities of the family led by stern but loving shepherd Ondas (Ondasyn Beskikbasov), who tends his flock with the same care and attention he gives to his wife Samal (Samal Yeslyamova) and their little ones.
Ondas is worried because his lambs are arriving stillborn and it doesn't help that his main helper, Asa (Askhat Kuchinchirekov, pictured), Samal's brother, shows no signs of developing the skills and commitment required of a shepherd.
Asa wants his own herd but Ondas insists that he first take a wife. As a result, the boy is desperately wooing a neighboring shepherd's daughter whose name is Tulpan and who is said to be very beautiful but is never seen.
The film follows Asa's attempts, aided by madcap pal Boni (Tulepbergen Baisakalov), to convince Tulpan's parents that he is a good catch and his determination to show Ondas that he can make a good shepherd. His ability is tested when he finds himself alone in the desert with a stricken pregnant sheep badly in need of help.
The screenplay, written by Dvortsevoy and Gennady Ostrovskiy, is filled with delightful moments showing the children at play, the tactile affection of the parents, the dauntingly punishing work, and the impossible dreams of the young men. The acting is sublime and cinematographer Jola Dylewska captures the bleak terrain in all its unforgiving glory.
Venue: Festival de Cannes, Un Certain Regard; Cast: Askhat Kuchinchirekov, Samal Yeslyamova, Ondasyn Besiskbasov, Tulepbergen Baisakalov; Director: Sergey Dvortsevoy.; Screenwriters: Sergey Dvortsevoy, Gennady Ostrovskiy; Director of photography: Jola Dylewska; Production designer: Roger Martin; Editors: Isabel Meier, Petar Markovic; Producer: Karl Baumgartner; Sales agent: The Match Factory; No MPAA rating, running time 100 mins.
This review appeared in The Hollywood Reporter