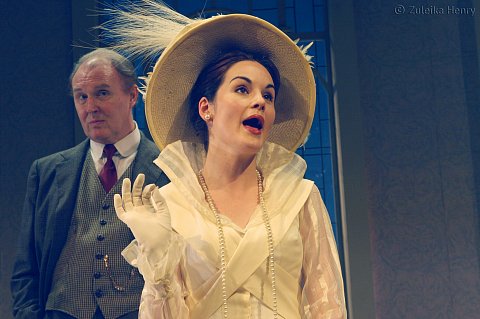 By Ray Bennett
LONDON – Professor Henry Higgins and Eliza Doolittle were wrapped up in romance so convincingly in "My Fair Lady" that it's bracing to rediscover that Bernard Shaw's original play, "Pygmalion," was so tart and biting.
Directed by the venerable Peter Hall and presented at Kevin Spacey's Old Vic, the play demonstrates Shaw's acute social observation and capacity for scenes that are moving and funny and always entertaining.
Tim Pigott-Smith (pictured with Michelle Dockery) plays the phonetics expert as an overgrown schoolboy, a confirmed bachelor with an aversion to just about everything except the weird and wonderful range of sounds of the human voice.
When he makes a wager with the jovial Col. Pickering (James Laurenson) that he can turn a lowly flower-seller into a lady in six months, his sole interest is in the game and not the person. Michelle Dockery's Eliza, however, is a determined young woman and it soon becomes evident that her gumption is more than a match for the condescension of her patronizing teachers.
Higgins's relationship with his mother (Barbara Jefford) is also instructive as the woman displays a finer appreciation of the girl's predicament than does her son. Alfred Doolittle (Tony Haygarth) is also a revelation as Shaw uses the character to show that the refined Higgins is not alone in being a master of wordplay.
It must be admitted that the play offers a chance to spot where writer Alan Jay Lerner found the inspiration for his songs in the musical version but it's sometimes a surprise to see how different things were.
Eliza does say, "I'm a good girl, I am" a lot but when Higgins ponders her departure it's her voice and not her face that he's grown accustomed to. It's hard to imagine chinless beau Freddy (Matt Barber) stepping up to declare his feelings "on the street where you live," and you can't see Eliza's cynical and newly rich dad declaring, "get me to the church on time."
Such thoughts don't linger, however, as it's a splendid production showing clearly why Shaw's tale has stayed around for so long and Pigott-Smith and Dockery make Higgins and Eliza well worth seeing all over again.
Venue: The Old Vic, runs through Aug. 2; Cast: Tim Pigott-Smith, Michelle Dockery, James Laurenson, Tony Haygarth, Una Stubbs, Barbara Jefford, Pamela Miles, Emma Noakes, Matt Barber; Playwright: Bernard Shaw; Director: Peter Hall; Set designer: Simon Higlett; Costume designer: Christopher Woods; Lighting designer: Peter Mumford; Sound designer: Gregory Clarke; Music: Mike Sands.
This review appeared in The Hollywood Reporter.