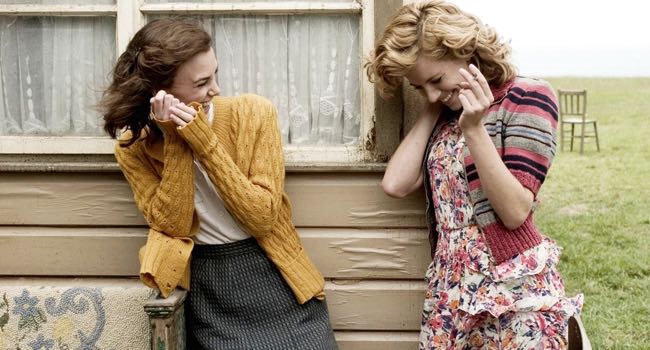 By Ray Bennett
EDINBURGH — A poet, a warrior and their two lovers form a complicated quartet in John Maybury's "The Edge of Love," a story of wartime romance in which fidelity and trust are put to the strictest test.
The poet is the extraordinary Welshman Dylan Thomas, played with echoes of the young Richard Burton by Matthew Rhys, but the film's literary appeal is made broader due to excellent playing by Keira Knightley and Sienna Miller as the main women in his life.
The film captures superbly the claustrophobic atmosphere of London in the Blitz during World War Two and measures the irreconcilable differences between love and war and between poetry and combat. It film succeeds as a deeply involving study of men and women caught up in a whirlwind beyond their control.
It will take careful marketing for the film to find its audience but the big names involved, the ongoing fascination with Thomas, and some excellent music supplied by veteran Angelo Badalamenti all serve it well.
Sharman Macdonald's astute screenplay swiftly sets up the dynamic between the foursome. Thomas is a sweet and gifted man who can be a right bastard and as the film starts he is writing propaganda films as a conscientious objector. In a London pub, he runs into his childhood sweetheart Vera (Knightley), who is a talented singer reduced to performances in London Underground stations while the Nazi bombs fall.
To Vera's dismay, Thomas has a cheerfully unfaithful wife, Caitlin (Miller), but the two fast become friends and turn into a threesome. That relationship is disturbed, however, when soldier William Killick (Cillian Murphy) falls in love with Vera and sets out to woo her.  The film follows their story as Killick is sent off to battle and Vera becomes pregnant. When the warrior returns much changed, there is a seismic shift that affects all of them.
With excellent contributions from production designer Alan MacDonald and cinematographer Jonathan Freeman, Maybury draws terrific performances from his cast. Rhys (TV's "Brothers and Sisters") reads Thomas's poetry wonderfully and plays the Welsh icon with warts and all. Murphy ("Sunshine") also brings poetry to the role of the warrior.
In the end, the picture belongs to the women as Knightley goes from strength to strength (and shows she can sing!) while Miller proves once again that she has everything it takes to be a major movie star.
Venue: Edinburgh International Film Festival; Cast: Keira Knightley, Sienna Miller, Cillian Murphy, Matthew Rhys; Director: John Maybury; Writer: Sharman Macdonald; Producers: Rebekah Gilbertson, Sarah Radcliffe; Director of photography: Jonathan Freeman; Production designer: Alan MacDonald; Music: Angelo Badalamenti; Costume Designer: April Ferry; Editor: Emma E. Hickox; Executive producers: David Bergstein, Paul Brett, Linda James, Hannah Leader, Nick Hill, Joe Oppenheimer, Tim Smith, David M. Thompson; Sales: Capitol; No MPAA rating, running time, 109 mins.
This review appeared in The Hollywood Reporter.