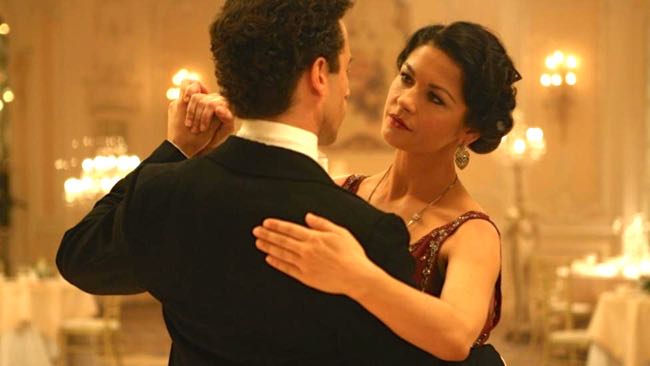 By Ray Bennett
EDINBURGH – Gillian Armstrong's "Death Defying Acts" is a tale of illusion and self-delusion in which the great magician Harry Houdini becomes in thrall to a beautiful woman who is the spitting image of his late mother.
Set in Edinburgh in the 1920s, the film has a good cast topped by Guy Pearce and Catherine Zeta-Jones (pictured), a decent love story, and lots of atmosphere. What it lacks is a villain, and magic without danger is simply a parlor trick, which is what the film becomes. Devoted fans of the stars will likely be the only ones clamoring to see it but although picked up for distribution in the United States by the Weinstein Co., it'll probably be on DVD when they do.
Pearce became remarkably fit to play the athletic illusionist and he brings his typically resourceful acting to bear on the role of the famous showman. Mourning his mother and angry at not being by her side when she died, Houdini advertises for people who claim they can speak to the departed and humiliates them savagely when they prove inevitably to be fakes.
In the Scottish capital, however, there is a canny woman named Mary McGarvie (Zeta-Jones), a beautiful single mother who makes ends meet by performing as a psychic in music halls with daughter Benji (Saoirse Ronan) using trickery to learn about their audience. When the great Houdini comes to town offering $10,000 to anyone able demonstrate that it's possible to communicate with the hereafter, Mary goes for it. Her likeness to Houdini's mother causes him to choose her for the experiment although his manager, Mr. Sugarman (Timothy Spall) sees her as a gold-digger.
The screenplay by Tony Grisoni and Brian Ward makes use of Houdini's stunts and obsessions and creates a credible mother and daughter relationship for Oscar-winner Zeta-Jones and nominee Ronan ("Atonement"). Pearce and Zeta-Jones look good and there's nothing wrong with their performances that a little chemistry wouldn't put right. That Mary resembles closely the man's mother is glossed over once the romance begins but not convincingly enough.
Armstrong's direction is more workmanlike than inspired and the film never catches fire as a tale of mystery and mischief really should.
Venue: Edinburgh International Film Festival; Cast: Guy Pearce, Catherine Zeta-Jones, Timothy Spall, Saoirse Ronan; Director: Gillian Armstrong; Writers: Tony Grisoni, Brian Ward; Director of photography: Haris Zambarloukos; Production designer: Gemma Jackson; Music: Cezary Skubiszewski; Costume designer: Susannah Buxton; Editor: Nicholas Beauman; Producers: Chris Curling, Marian MacGowan. Executive producers: Dan Lupovitz, David M. Thompson, Brian Ward; Production: Film Finance Corporation Australia Limited Limited, BBC Films, the UK Film Council, Myriad Pictures present a Macgowan Lupovitz Nasatir Films, Zephyr Films Houdini Limited production; Not rated; running time, 96 minutes.
This review appeared in The Hollywood Reporter.