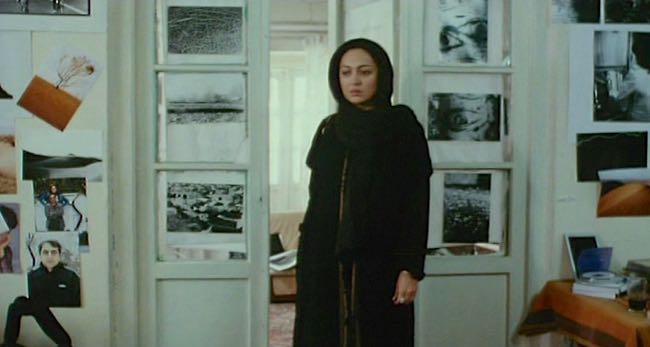 By Ray Bennett
EDINBURGH – A woman and her mother and daughter each lose their way in Manijeh Hekmat's "3 Women," an observant but choppy portrait of life in modern Iran that treats heavy traffic and savage traditional practices with about the same degree of concern.
Its many accomplished scenes and good performances will take the film to festivals but not far beyond.
Niki Karimi (pictured) plays a sophisticated professional woman caught up in an argument over the sale of a Persian carpet she regards as a national treasure. An expert in such things, she fights with the buyer and seller and the museum that employs her, and ultimately takes the carpet for safekeeping.
Her rebellious daughter (Pegah Ahangarani), who has quit school to pursue a career as a photographer, drives out of town where she encounters an idealistic archeologist (Babak Hamidian), working on a remote excavation.
With her senile mother (Maryam Boubanim) on board, the carpet expert drives her four-by-four about the hectic streets of Tehran seeking her daughter, parking anywhere she chooses.
Complications ensue for all three when the old woman takes the carpet and retraces steps from her youth and the young woman encounters a girl who has just had an abortion and faces barbarous punishment from her family.
The scenes dealing with middle class urban hassles are shot full of dry humor but the surreal sequences of the old woman's wanderings are murky and the encounter with medieval justice lacks dramatic impact.
Venue: Edinburgh International Film Festival; Cast: Niki Karimi, Pegah Ahangarani, Maryam Boubanim, Babak Hamidian; Director: Manijeh Hekmat. Screenwriters: Nahmeh Samini, Manijeh Hekmat; Director of photography: Dariush Ayyari; Art director: Mohsen Ahangarani; Music: Heydar Sajedi; Costume designer: Zhila Mehrjui; Editor: Mostafa Khergh-Poush; Producers: Manijeh Hekmat, Jalal Shamsian; Production: Bahmad Film; Sales agent: Iranian Independents; No MPAA rating, running time, 94 mins.
This review appeared in The Hollywood Reporter.