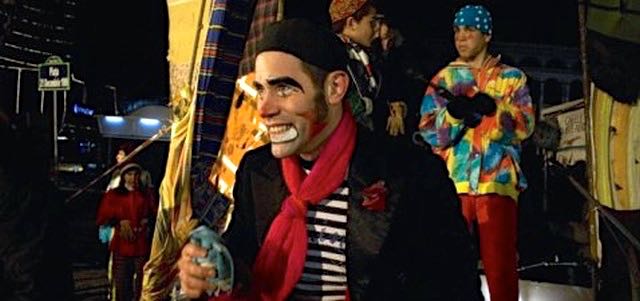 By Ray Bennett
VENICE – The combination of a do-good clown in a red nose with street kids badly in need of help causes a "Patch Adams" shudder but filmmaker Marco Pontecorvo's engaging first feature "PA-RA-DA" steers clear of the sentimental pitfalls.
The film is based on real events following a visit by French busker Miloud Oukili to Romania in 1992. He was so moved by the numbers of orphaned and abandoned children in Bucharest that he formed a circus company in which they could perform to earn money and self-esteem. The troupe performs in that city's main square to this day, and tours around Europe putting on shows as part of the Parada Foundation, which also provides assistance to kids in need.
A winning performance by Jalil Lespert as the idealistic clown and some captivating youngsters help former cinematographer Pontercorvo tell the story of how the circus came about with few overt tugs on anyone's heartstrings. The film's open goodwill and honest storytelling will attract audiences far and wide.
It's a moving tale but it's also funny, and more important it does not skirt the fact that in many cities around the world there are endless numbers of children living in poverty who will never see a red nose or a circus, let alone perform in one.
Told in straightforward fashion, the film shows Miloud as he responds with a magician's flare to the wide-eyed but fearful expressions of the street kids who pester and solicit at the train station and live in the most appalling squalor underground.
Slowly, he befriends Cristi (Robert Valeanu), a proud and resourceful but vulnerable kid who tells the others in his pitiful gang about the magician who eats ping-pong balls. With the help of local social workers and an NGO operative, Miloud gets a small amount of funding to work with the children and earns their trust.
Far from angels with dirty faces, the anonymity of cruelly deprived and criminally minded children gradually gives way to reveal individuals with personality and character, and filled with longing. Miloud's goal of providing them with self-respect and hope puts him at odds with both corrupt authorities and organized criminals before his determination wins through.
Pontecorvo's cinematographer's eye informs many starkly impressive images, some of which are truly jarring. In one, a young girl dances ballet in her underwear in a disused railway car, a picture of innocence until the camera draws back to reveal a man masturbating.
The director draws some wonderful performances from the youngsters aided by Lespert's considerable laid-back charm, but the sadness of the children's plight is always taken seriously to the film's great benefit.
Venue: Venice International Film Festival, Horizons; Cast: Jalil Lespert, Evita Ciri, Gabriel Rauta, Patrice Juiff, Bruno Abraham Kremer, Robert Valeanu, Cristina Nita; Director, screenwriter: Marco Pontecorvo; Screenwriter: Roberto Tiraboschi; Director of photography: Vincenzo Carpineta; Production designer: Paola Bizzarri; Music: Andrea Guerra; Costume designer: Sonoo Mishra; Editor: Alession Doglione; Producers; Marco Valerio Pugini, Ute Leonhardt; Production: Panorama Films; Sales: Beta Cinema; Not rated; running time, 100 minutes.
This review appeared in The Hollywood Reporter.