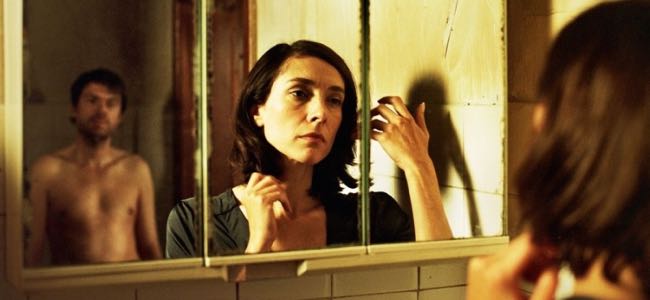 By Ray Bennett
VENICE – In Belgian director Patrice Toye's "Nowhere Man," an apparently comfortably off and happily married man sees a raging house fire and on the spur of the moment walks into it in order to fake his death and disappear. The rest of the film details the many ways he regrets that decision.
Intriguing and insightful, the film shows that while the fantasy of abandoning everything and everyone, and assuming a completely new identity, might sound appealing, the wisdom remains true: Wherever you go, there you are.
Toye, who co-wrote the script with Bjorn Olaf Johannessen, uses dream sequences and surrealism to illuminate her points and the result is a satisfying blend of drama and social comment. Frank Vercruyssen and Sara De Roo (pictured) make lively combatants as a duo whose rather odd notion of commitment is tested with keen imagination, and Toye demonstrates much skill in exploring their self-induced dilemmas. "Nowhere Man" will make a mark at festivals and should find its way to broader audiences.
A long opening scene shows Tomas (Vercruyssen) and a neighbor discussing the relative merits of their wives and lives with a growing sense of unhappiness. Still, it' a surprise when Tomas makes his move and winds up on a Pacific island where a bug infestation has ruined tourism and caused widespread unemployment.
He cannot escape who he really is, however, even with a new name and a new home on a far away island. His longing for wife Sara (De Roo), the woman he loved but left, proves overwhelming and so his return is inevitable.
He tries to turn the island house he bought into a bar but lacking any customers at all he takes an unpleasant job painting trees with disinfectant. Robbed of his only photograph of his wife, he suffers a beating when he tries to retrieve it. In a bizarre incident he also loses the use of his right hand.
Desperately alone and unhappy, Tomas returns to Belgium after five years away intent on confessing and begging forgiveness from Sara. She, however, has other plans and her designs for turnabout lead the film into a fascinating examination of modern relationships.
Venice Film Festival, Venice Days; Cast: Frank Vercruyssen, Sara De Roo, Muzaffer Ozdemir; Director, screenwriter: Patrice Toye; Screenwriter: Bjorn Olaf Johannessen; Director of photography: Richard Van Oosterhout; Production designer: Vincent de Pater; Music: John Parish; Costume designer: Margriet Procee; Editor: Nico Leunen; Producers: Vincent Tavier, Philippe Kauffmann; Production: La Parti Production; Sales: Funny Balloons; Not rated; running time, 96 minutes.
This review appeared in The Hollywood Reporter.