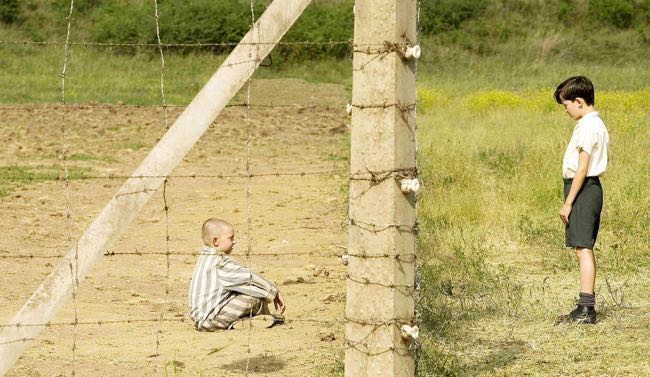 By Ray Bennett
LONDON – The home life of the Nazi commandant of a World War Two concentration camp appears bizarrely serene in Mark Herman's grave and powerful drama "The Boy In the Striped Pajamas," but the innocent are bound to suffer when humanity is abandoned.
A fine adaptation of John Boyne's novel, which was aimed at children, the film is more adult in its approach although its stern message remains important for youngsters. Set for a Miramax release in the United States on Nov. 7, it's a tough-minded lesson for those who would perpetrate genocide and it should register strongly with a long afterlife on DVD.
Boyne's tale is starkly cautionary and writer/director Herman handles a difficult topic with great sensitivity, drawing splendid performances from his young actors with David Thewlis and Vera Farmiga and the other grownups reliably efficient.
It's the story of the unlikely friendship between two little boys. Bruno (Asa Butterfield) is the sheltered and entirely self-absorbed son of a Nazi officer (Thewlis) living in innocent luxury. Shmuel (Jack Scanlon) is a Jewish boy living behind barbed wire in the direst state of hunger and fear.
Bruno and his family – impressionable sister Gretel (Amber Beattie) and their gentle mother (Farmiga) – have just moved from Berlin to the countryside where strict but loving papa has taken up his new command running a prison camp.
The naïve and scatterbrained Bruno sort of knows that his father is a Nazi officer but he has no clue what it means. At the new house, a shuffling and obedient servant brought in from the camp, Pavel (David Hayman), cowers before brutal adjutant Lt. Kotler (Rupert Friend) but Bruno barely notices while Gretel develops a crush on the explosive young Nazi.
Bruno is deluded about what life is like at his father's camp because faked videos that show its inhabitants happy and well-fed have been screened at home for visiting dignitaries and Red Cross inspectors.
Lonely and curious, he slips away from the house and finds Shmuel lurking in desperation by the fence. Deeply ignorant of the truth of Shmuel's circumstances, Bruno adopts him as friend. It's a friendship that leads to shocking revelations and a powerful conclusion that may cause many viewers to seriously question their assumptions.
Opens: Sept. 12 U.K. (Walt Disney); Cast: Asa Butterfield, Jack Scanlon, Amber Beattie, David Thewlis, Vera Farmiga, Rupert Friend, David Hayman; Director, screenwriter, executive producer: Mark Herman; Director of photography: Benoit Delhomme; Production designer: Martin Childs; Music: James Horner; Costume designer: Natalie Ward; Editor: Michael Ellis; Producer: David Heyman; Executive producer: Christine Langan; Production: Miramax Films, Heyday Films; Sales: Miramax Films; Rated PG-13; running time, 94 minutes.
This review appeared in The Hollywood Reporter.