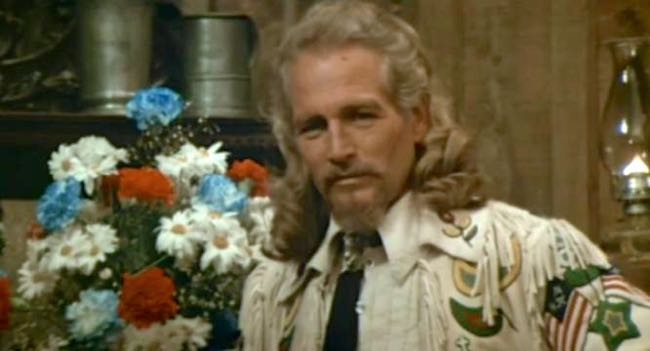 By Ray Bennett
LONDON – One of the frequent disappointments in meeting film stars is realizing how much their charisma and star power depend on the power of the movie screen. In my experience, only a few stars retain that aura in real life – Sean Connery, Jack Nicholson, George Clooney and Omar Sharif among them – and, of course, Paul Newman, who died on Sept. 26. He was 83.
No matter how big and crowded, you always knew they were in the room.
I met Newman in New York City in 1976 when he was promoting the Robert Altman film "Buffalo Bill and the Indians, or Sitting Bull's History Lesson" (pictured). Not ranked among the director's top films, it remains eminently watchable for several reasons, not least Altman's anarchic screenplay, co-written with Alan Rudolph, with its rowdy depiction of politics and show business.
Newman gives a vigorously crafty performance supported by a fine cast including Burt Lancaster, Kevin McCarthy, Harvey Keitel and Geraldine Chaplin. Tony Masters, who shared an art direction BAFTA and an Oscar nomination for "2001: A Space Odyssey," did a wonderfully colorful job on production design. It was captured with great invention by cinematographer Paul Lohman (Emmy winner for the 1976 TV miniseries "Eleanor and Franklin"), who also shot Altman's gambling gem "California Split" and one of his masterpieces, "Nashville."
The press conference for "Buffalo Bill" was dominated by an hilarious performance by Pat McCormick, the 6-foot-8 thickly mustached "Tonight Show" writer and frequent Johnny Carson guest in character as President Grover Cleveland, his role in the film.
But what I recall most clearly is that Altman and Newman agreed on what they most enjoyed about making films. They both said that after writing the screenplay and spending weeks working with cast and crew on everything needed to shoot the film, they wished they could stop right there and not make the picture.
Thank goodness they didn't do that so there's a trove of great Newman films to treasure. He deserved an Academy Award, of course, but as so often happens, it was for the wrong performance ("The Color of Money"). I would have given it to him for at least one from "The Verdict" over Ben Kingsley for "Gandhi" or "Cool Hand Luke" over Rod Steiger for "In the Heat of the Night".
Here's the New York Times appreciation