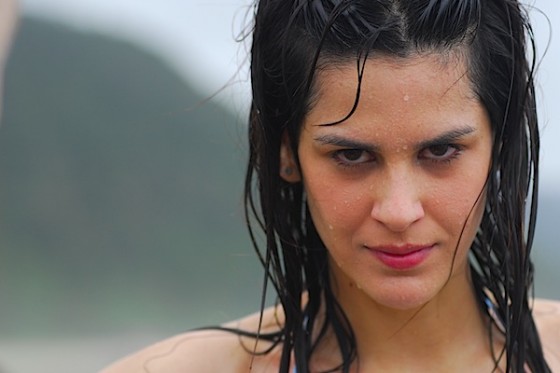 By Ray Bennett
LONDON – The top feature film prize at the 10th Rio International Film Festival, which wrapped Thursday night, went to Jose Eduardo Belmonte's droll thriller "Should Nothing Else Work Out" (Se Nada Mais der Certo) and its star Caroline Abras (pictured) was named best actress for her role as a rooky criminal.
Brazilian actor turned director Matheus Nachtergaele won the directing prize for "The Dead Girl's Feast" (A Festa da Menina Morta), an examination of the believe in miracles. Daniel de Oliveira won as best actor playing a man who is regarded as a saint in a rural community.
The documentary prize went to "Royal Road of Cachaca", Pedro Urano's look at the traditional Brazilian trail that is now used to distribute the country's favorite libation, the sugar-based liqueur cachaca. Helena Solberg was named best director in the documentary section for "The Enchanted Word" (Palavaa (en) Cantada), about the lyrics to Brazil's popular songs.
The festival audience prize was given to "That's It" (Apenas O Fim) by Matheus Souza, which also picked up a special mention in the official competition. The documentary audience award went to "Loki – Arnaldo Baptista", Paulo Henrique Fontenelle's take on the Brazilian rock star. "The Headless Woman" (Mujer sin Cabeza), which was in competition at the Festival de Cannes, won the Fipresci prize for best Latin Film.
The 15-day festival's closing gala Wednesday night featured Brazilian director Vicente Amorim's English-language drama "Good" with star Viggo Mortensen on hand in support of what he called "an ethical thriller" set in Nazi Germany.
Despite torrential rain, the festival attracted huge and enthusiastic audiences for some 350 features screened at more than 30 screens across Rio.
The last week featured a screening of the film "U23D" with U.S. cinematographer Peter Anderson giving master-classes on the cinematic format for industry and student audiences.
The veteran 3D expert, who shoots theme-park shows as well as feature films, said in an interview that most 3D scripts he sees still use the format as a gimmick and he wishes that directors and producers "would see it as just another element" in a film.
This story appeared in The Hollywood Reporter.