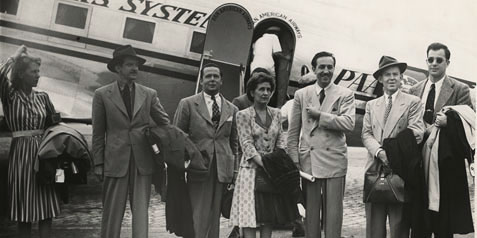 By Ray Bennett
RIO DE JANEIRO — Theodore Thomas's engaging documentary "Walt & El Grupo" tells of a 1941 goodwill tour of South America undertaken by Walt Disney and a group including some of his top animation filmmakers. It screened in the Expectations sidebar of the 2008 Rio de Janeiro International Film Festival.
An imaginative blend of black-and-white footage of the trip and present-day images, with lots of newly recorded period music, the film adds to the controversial mogul's pictorial biography and the frequently contentious history of relations between the U.S. and Latin America.
It's also a warm homage to the witty and clever artists that created some of the best in Disney animation including the documentary director's father, Frank Thomas. Fans of animation will want to see it since it led directly to such pictures as "Saludos Amigos," "The Three Caballeros" and several shorts, but so will anyone interested in the region's politics of the period.
In 1941, with Europe at war and the Allies and the Axis each vying for influence in South America, the U.S. Office of Inter-American Affairs launched a "Good Neighbor" program, designed to encourage friendly relations with nations to the south. As part of that, Disney was invited to embark on a goodwill tour taking in Brazil, Argentina, Uruguay and Chile.
His studio was embroiled in a bitter strike at the time so it was not a bad time to be away. Disney ventured south with a crew of his top people that was soon dubbed "El Grupo," and enthusiastic crowds and national dignitaries greeted them everywhere they went.
Thomas uses film clips taken on the tour and interviews with relatives of the group to tell the tale with impressive visual effects by Bill Bryn Russell that merge images from then and now. The music is especially good with composer James Stemple showing a keen ear for the specific musical traditions of each country along with a dandy arrangement of the irresistible "Brazil" by Brazilian songwriter Ary Barroso.
Here's more about the film where under music you'll find more about Barroso