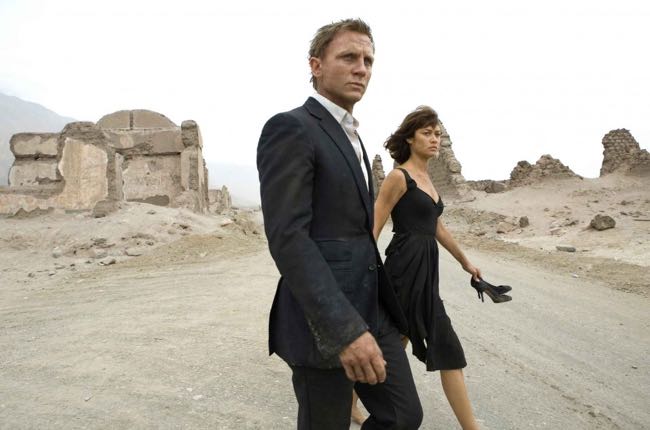 By Ray Bennett
LONDON – The meanest and leanest James Bond film yet, "Quantum of Solace" is a breathless splash of high-speed action that hurtles from one reckless chase to another.
There's not much solace and few words as the British secret agent exercises his license to kill in dispatching one bad guy after another in the attempt to avenge the death of the lover who died in "Casino Royale."
Fans of that boxoffice smash and the earlier films might be disappointed that the new picture allows hardly any flourishes of style and character in the 007 tradition, but moviegoers seeking an adrenaline rush will be well pleased. Running almost 40 minutes shorter than the bloated "Casino Royale," the film should do bristling business around the world.
So much of the movie comprises furious pursuits in boats, planes and racing automobiles that director Marc Forster owes huge thanks to his talented technical crew. Second unit director Dan Bradley and stunt coordinator Gary Powell, both "Bourne" veterans, must take a large chunk of the credit for all the thrilling encounters that leave credibility in the dust.
Forster's regular cinematographer Robert Schaefer and Oscar-winning production designer Dennis Gassner ("Bugsy") contribute fine work and the intricate assembly by editors Matt Chesse and Richard Pearson is staggeringly effective. A gunfight cut against a lavish performance of "Tosca" is an action triumph.
Jack White's title song passes without notice, but composer David Arnold provides a top-flight action score, keeping the familiar themes to a minimum as they hardly suit Daniel Craig's Bond.
Craig looks incredibly fit, and his manner suggests someone capable of surviving everything that's thrown at him. This Bond is more invincible than ever and shares with Jason Bourne and the kite runner the unerring ability to know exactly where the object of his chase will end up.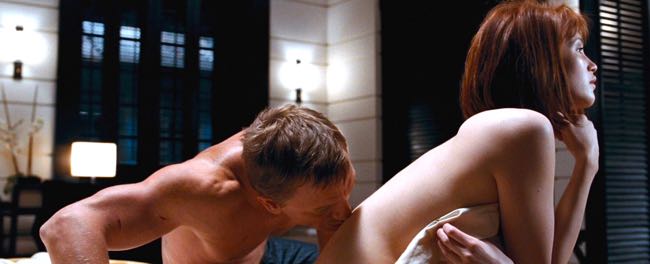 Judi Dench has a few good scenes tearing a strip off her favorite agent, and Olga Kurylenko (pictured with Craig top) has some serious action of her own, which she renders in high style. Gemma Arterton (pictured with Craig above), however, is a mere bedroom dalliance, and Mathieu Amalric ("The Diving Bell and the Butterfly") tends to let his character's madness show too much with bulging eyes, one of which threatens to start blinking at any moment.
There are the usual lavish locales, and the film is as efficient as its supercomputers and high-powered weaponry and as sleek as the glamorous settings where Bond catches his breath. There is a danger in this version of Ian Fleming's hero, however. A killer in the movies needs something redeeming about him. Bourne had presumed innocence, and Sean Connery's Bond, while nasty, had ironic wit. Craig's humorless Bond is in danger of becoming simply a very well-dressed but murderous thug.
Opens: Oct. 31 U.K., Nov. 14 U.S. (Sony Pictures, MGM); Cast: Daniel Craig, Olga Kurylenko, Mathieu Amalric, Judi Dench, Giancarlo Giannini, Gemma Anderton, Jeffrey Wright; Director: Marc Forster; Screenwriters: Paul Haggis, Neal Purvis & Robert Wade; Director of photography: Roberto Schaefer; Production designer: Dennis Gassner; Music: David Arnold; Costume designer: Louise Frogley; Editors: Matt Chesse, Richard Pearson; Producers: Barbara Broccoli, Michael G. Wilson; Executive producers: Callum McDougall, Anthony Waye; Production: Danjaq, United Artists, Columbia Pictures; Rated PG-13, running time, 106 mins.
This review appeared in The Hollywood Reporter.