By Ray Bennett
Ghent, Belgium – Veteran Hollywood film composers James Newton Howard and Angelo Badalamenti (pictured) were among those honored at the World Soundtrack Awards, held in association with the Ghent Film Festival in Belgium. But they and fellow composers at the event expressed concern over the fate of the soundtrack album.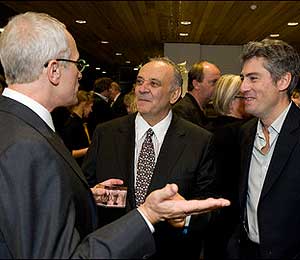 Badalamenti, who picked up a lifetime achievement award for a career in which he has scored most of David Lynch's films and others such as "The Edge of Love" and "A Very Long Engagement," said: "It's easier to get labels interested if you have some important element such as rock artists or pop stars, but a lot of people complain that it's getting tougher and tougher to release soundtrack albums."
Howard, who was named film composer of the year for "Charlie Wilson's War," "Michael Clayton" and "I Am Legend," said that many soundtrack scores these days could be found only on iTunes. "Most of my scores have found their way to the audience in one way or another but the scores that mean the most to you are the ones that nobody hears," Howard said.
He praised Warner Bros. for getting behind the release of his and Hans Zimmer's score for "The Dark Knight" Batman sequel. "They did an amazing job, with three or four versions of the album, and in-store promotions. Of course, Hans Zimmer is a superstar," he said. "I'm also pleased that Sony Classical will release my score to Edward Zwick's 'Defiance,' with soloist Joshua Bell."
French composer Cyril Morin ("A Simple Heart," "Zaina," "That Day"), said: "It's better that you have your own label or go to iTunes. Usually, soundtracks don't sell that much; in France very, very few. I rely on iTunes because you can make, say, 20 minutes available and not the whole thing. Soundtrack albums work for very small films and very big films but there's nothing in the middle, that's gone away."
Argentinian composer Daniel Tarrab, who with partner Andres Goldstein has scored such films as "The Official Story" and "Broken Silence," was philosophical: "The thing is to get in touch with the right people who will take care of your work but most of the time they don't know how."
This story appeared in Billboard.