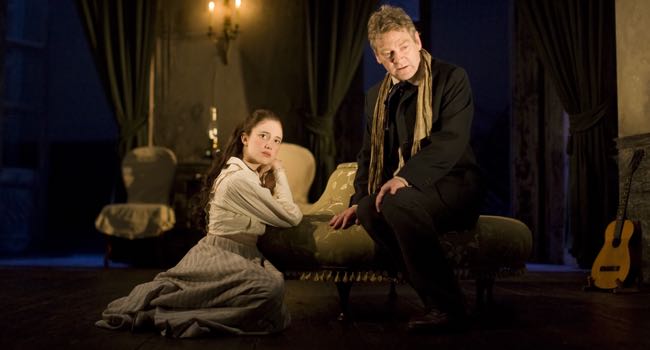 By Ray Bennett
LONDON – Anton Chekhov wrote "Ivanov" when he was a mere 27, and it shows, and so the Donmar Warehouse's West End production benefits enormously from having the play re-imagined with the expertise and wisdom of playwright and Oscar-winning screenwriter) Tom Stoppard, who is 71.
Director Michael Grandage and a large and excellent cast headed by Kenneth Branagh in the title role also contribute to make its story of a man crippled by self-loathing and depression resonate with modern pertinence.
The difficulty with the play is that whereas Shakespeare made his tragic heroes kings so that their downfalls had great consequences, it's difficult to get worked up about Ivanov's fate. He's a well-off land owner who is going broke, has a loveless marriage to a dying woman and sees his small world ending, but it takes Stoppard's wit and great acting to make anyone care.
Critics have likened the title character to Hamlet or Jimmy Porter in "Look Back in Anger," but his downfall is made gripping by Branagh's ability to convey his grasp of how fast he is falling from grace and the despair and cruelty that erupt as a result.
Christopher Oram's evocative sets establish the sweep and fading grandeur of the lifestyle of wealthy country folk seeing world events swirl about them. Ivanov feels less and less a part of their world, spending nights almost as an interloper at their parties and social evenings.
His wife (Gina McKee) is dying of tuberculosis and begs him to stay at home, fearing with good reason that he is attracted to Sasha (Andrea Riseborough, pictured with Branagh), the provocative daughter of wealthy neighbor Lebedev (Kevin R. McNally). Ivanov is too conflicted to actively pursue the girl, though she encourages him with careless enthusiasm. His wife's self-righteous doctor (Tom Hiddleston), however, becomes convinced that he only married for his wife's money and conspires to raise the alarm about his dalliance. While at first Ivanov retains the good will of his social circle, things gradually begin to unravel.
Branagh is fine throughout in a thoughtful, unstarry performance. A scene in which the benevolent but henpecked Lebedev offers Ivanov money so that he can repay what he owes to the man's thrifty wife demonstrates what a fine actor also can do with silence.
The production is the first of the Donmar's West End season of classics at Wyndham's Theatre and will be followed by "Twelfth Night" with Derek Jacobi, "Madame de Sade" with Judi Dench and "Hamlet" with Jude Law.
Venue: Wyndham's Theatre, London, runs through Nov. 29; Cast: Kenneth Branagh, Lucy Briers, Malcolm Sinclair, Gina McKee, Kevin R. McNally, Tom Hiddleston, Andrea Riseborough; Playwright: Anton Chekhov, in a new version by Tom Stoppard; Director: Michael Grandage; Set designer: Christopher Oram; Lighting designer: Paule Constable; Composer/sound designer: Adam Cork; Presented by: Donmar Warehouse.
This review appeared in The Hollywood Reporter; Photo by J.Persson.