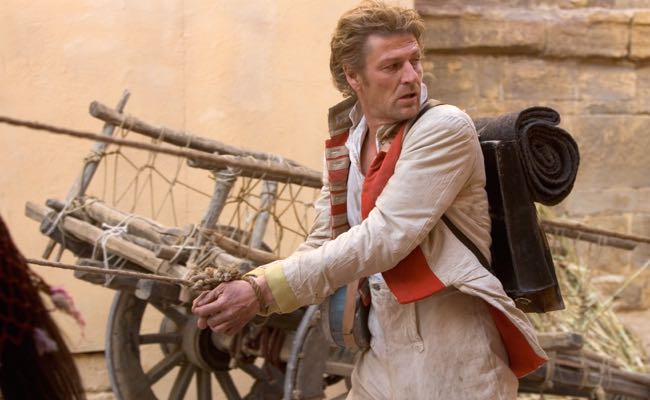 By Ray Bennett
Sean Bean admires Bernard Cornwell's novels about the swashbuckling soldier he plays in the Sharpe films but he takes great delight in the slight change he made to the character.  "He's supposed to be from London," grins Bean. "But I made sure he's a Yorkshireman!"
Despite his success in international films, Bean prefers to live in the UK, where he is a keen supporter of his hometown football team, Sheffield United: "I go to Los Angeles to make pictures but I always come home."
Bean has squared off against James Bond and Jack Ryan, starred in blockbusters including "The Lord of the Rings" trilogy, and made small, smart art house films such as "North Country" and the upcoming "Far North".
Through it all, he has always returned to play swashbuckling soldier Richard Sharpe, and he's back this month on ITV and on DVD in the 16th edition, "Sharpe's Peril". He says, "It's my role! They're great stories and I love playing Sharpe as he's grown older."
Bean plays Sharpe in the new film with a greater degree of maturity than in the earlier adventures: "My intention was that he was portrayed with meaning and thoughtfulness, and a sense of melancholy about the character. A man who wasn't as rash, bold or ambitious as he was before."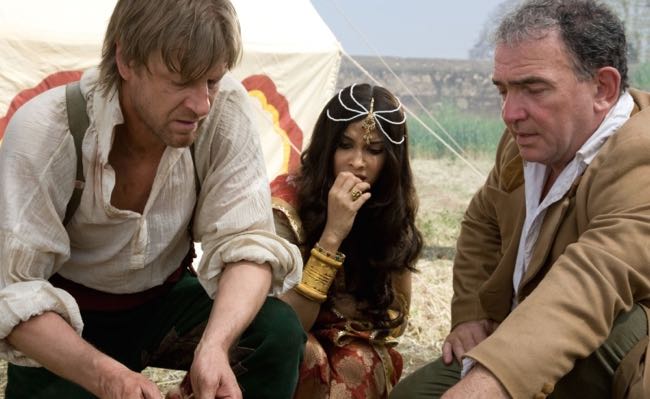 "Sharpe's Peril" (pictured) airs in two 90-minute episodes on ITV1 Sunday Nov. 2 and Nov. 9 and the DVD is released on Dec. 10. The same day will see a boxed set of "Peril" with the 15th title in the series, "Sharpe's Challenge" from 2006. ITV also has plans to release a repackaged boxed set of the previous 14 and no doubt in due course will box the entire series.
The new adventure follows on from "Sharpe's Challenge" with the disillusioned Colonel Sharpe and his longtime partner Sgt. Patrick Harper (Daragh O'Malley) still in India in 1818 trying to make their way back to Calcutta to find a ship home. The two of them agree reluctantly to escort a spoiled French beauty (Beatrice Rosen) to join her fiancé, Major Joubert (Pascal Langdale) but along the way they get involved with an East India Company caravan threatened by rebels.
The film is a Celtic Films and Picture Palace Films production with the usual team of producers Malcolm Craddock and Muir Sutherland, director Tom Clegg and writer Russell Lewis.
Bean, who has been in major films with shoots lasting many months, still finds the efficiency of the "Sharpe" productions remarkable: "We shot two 90-minute films in six weeks. It's extraordinary. I missed the worst of the heat, which was 145 degrees Fahrenheit, but everyone just gets on with it."
Irish actor O'Malley, who is now based in London after years in Los Angeles where he was a, like me, a regular at Dan Tana's, was slightly wounded during filming when a mini tornado blew in out of nowhere. He says, "It wrecked part of the set and sent a tent pole flying into my face. Luckily, my head is so thick it bounced off."