By Ray Bennett
LONDON — If you want to make a film about kids who dream of becoming rock stars, it helps if you know one or two genuine rock stars. For Giles Borg, knowing Ed O'Brien of Radiohead from his days in the Oxford music scene made all the difference.
Funding for filmmakers from institutions such as regional bodies and the Film Council can be a mixed blessing. For some, it's an essential tool for initiating or keeping afloat projects that might otherwise founder. For others, it's one of the reasons so many British films fail as underdeveloped projects are propped up by Lottery cash.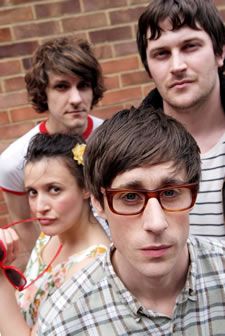 Borg, a maker of music videos and commercials who has made a mark with short films, managed to avoid both those issues for his first feature, "1234", by not resorting to what he calls "soft money". He got rock money instead.
"I have nothing against the Film Council and would like to work with them one day, but going to the regional film bodies can take time. You can be looking at nine months of waiting," Borg says. "We wanted to get on with it. We knew how to do it. We knew the audience. And we felt that we could raise the money."
"1234" is an affectionate snapshot of four young and ambitious would-be rock stars that manages to combine gentle sweetness with a clear-eyed view of the slim chances of its hopeful musicians struggling to launch an indie rock band. Sales agent MovieHouse Entertainment got involved early and the film screened to acclaim at the London International Film Festival. It then went to the American Film Market and distribution deals are pending.
Borg started out playing in bands and then moved into pop videos and tour documentaries featuring such acts as Ride, DJ Hurricane, Ronnie Wood and Tom Jones. In his spare time he made short films that did well at festivals and hooked up with documentary producer Simon Kearney to make a short film titled "Home", which travelled to festivals far and wide. Together, they formed Carson Films, named for "The Heart Is A Lonely Hunter" author Carson McCullers, whom Borg greatly admires, and set about creating a slate of low-budget projects.
"Simon and I worked out what kind of money we could realistically raise as first-time producer and first-time writer-director," Borg says. "There was no point in trying to make a huge sci-fi epic. We decided to look for stories that we could actually budget, and stories we felt could reach an audience with that budget. The good thing about working on a very low budget is that we really could make the film we wanted to make."
Knowing what it's like to be aspiring rock musicians, their environment proved immediately appealing. "It was a world I knew very well and we wanted to make a film for those people in that world," he says.
Borg and Kearney settled on a budget of £250,000 and intended to seek financing from the music industry. "But our timing was terrible since the music business was falling apart," Borg says. "But we produced a brochure for the film, a full-colour booklet, and through a friend it got to Ed O'Brian, whom I had met in Oxford when Radiohead were called On a Friday."
Oxford has a very small music community, Borg recalls, and everyone pulls together. "He knew me from bands and films and the script appealed to him. He said it reminded him of the early days, struggling to keep down a job," he says. "And he didn't ask for input into the making of the film. All the executive producers were fantastic. They were happy to invest and then hand over the job to us."
With a big rock name attached Borg and Kearney found it easier to raise the money through friends of friends and in the City. They did six weeks of pre-production and started shooting last April 14 over 21 days in London, mainly Hackney. Borg originally wanted to shoot in Tilden but found Camden Council tricky to work with and so moved the location.
"Hackney was wonderful and they rushed through the permits. Everything was done on location, we were very definite about wanting that," Borg says. "We wanted it to be authentic with real places. I talked to our DP, Mike Eley ("Touching The Void"), and he agreed that Hackney had to look like Hackney. I'm a big fan of London, and it annoys me when I see it on film and it's a London I don't know, a touristy one or it's filthy. London has so much character."
Casting was a challenge but they came up with a good group of youngsters in Ian Bonar as wannabe frontman Steve, Matthew Baynton as drummer Neil, Kieran Bew as lead guitarist Billy and Lyndsey Marshal as ace basist Emily.
But it was the actual shoot that took Borg by surprise. "Nothing could have prepared me for what it was like," he says. "The first week was like being hit by a train. It was non-stop being asked questions, all perfectly valid questions, from the first minute to the last. By the end, of course, I didn't want it to stop."
Then came the news in postproduction that no director wants to hear. "Post was interesting because we had two months and then we kind of ran out of money. We had a pretty good rough cut but we were out of cash and we had to figure out where to get more," says Borg. "But then MovieHouse submitted the rough cut to the London Film Festival and that changed everything."
The film was accepted and equity investors came on board so they could complete the picture. While the film still has to find its audience, Borg says the experience was a huge learning curve. He says, "I never learned so much. It was the best film school ever. What I'm most pleased about is that we made the film we wanted to make."
This story appears in Cue Entertainment.