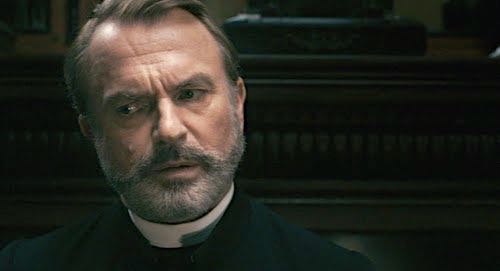 By Ray Bennett
If you like droll, dry and eccentric English movies then "Dean Spanley" is for you.
It's a small picture set in Edwardian times and stars Jeremy Northam, Sam Neill (pictured) and Peter O'Toole, who all perform beautifully. But it's the type of film it's better to know nothing about before you see it. I had no idea what it was about and my smile started very soon and got wider as it played out.
The film is released in the United Kingdom on Friday but although it screened at the Toronto International Film Festival this year, no United States release has been announced. That's a real shame as it should do well, and it also prevents me listing "Dean Spanley" in my Top 10 films of the year for The Hollywood Reporter.
Directed by New Zealander Toa Fraser, it's based on a novel by Irish writer Lord Dunsany (1878-1957) with a screenplay by veteran Scottish writer Alan Sharp, who has some very interesting credits that will not at all prepare you for "Dean Spanley".
Amongst many other films, Sharp wrote the scripts for some terrific little pictures from the 1970s including Richard Fleischer's "The Last Run" (1971, starring George C. Scott; Peter Fonda's "The Hired Hand" (1971, starring Fonda and Warren Oates; Robert Aldrich's "Ulzana's Raid" (1972), starring Burt Lancaster; Ted Kotcheff's "Billy Two Hats" (1974), starring Gregory Peck; and Arthur Penn's "Night Moves", starring Gene Hackman.
Sharp also wrote Sam Peckinpah's last feature, "The Osterman Weekend" (1983), starring Rutger Hauer, and Michael Caton-Jones's "Rob Roy" (1995), starring Liam Neeson.
"Dean Spanley," for which he is also executive producer, was obviously a labour of love and it shows.