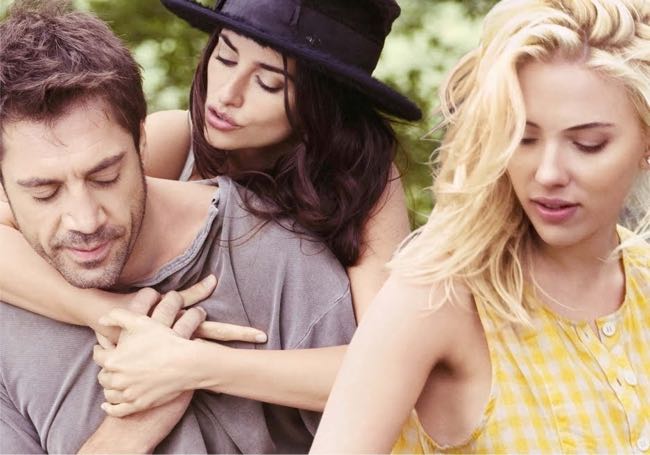 By Ray Bennett
Everything comes in pairs in the United Kingdom's February film releases. Two Oscar-winning veteran filmmakers show how it's done with Clint Eastwood's "Gran Torino" and Woody Allen's "Vicky Cristina Barcelona" (pictured above).
Two famous characters from the past, one bringing chills and the other chuckles, also return — Jason Voorhees in a remake of "Friday the 13th" and Inspector Clouseau in "Pink Panther 2".
There are two serious awards contenders in John Patrick Shanley's drama "Doubt" and the second part of Steven Soderbergh's biographical saga, "Che". And a new film titled "Brothers" from Irish director Jim Sheridan is about two conflicted brothers played Jake Gyllenhaal and Tobey Maguire.
Not content with just "Changeling" with its highly praised performance by Angelina Jolie in 2008, 78 year-old Clint Eastwood stars in as well as directs "Gran Torino" (Feb 20, Warner Bros.). He plays an extremely grouchy veteran of the Korean War whose racism undergoes a change when he defends his mixed-race neighbours from a local gang. Lean and gravel-voiced, the four-time Academy Award winner is said to deliver a performance that could finally win him a best actor award.
Woody Allen has three Oscars on his mantlepiece, two of them for writing, and he's in the running for at least a third screenplay nomination for "Vicky Cristina Barcelona" (Feb. 6 Optimum Releasing). Given a rousing welcome at this year's Festival de Cannes, the picture sees British actress Rebecca Hall (daughter of director Peter Hall) and Scarlett Johansson as two young American women, Vicky and Christina respectively, on a vacation in Spain. There, they meet a suave and disarming artist played by Javier Bardem who charms them each into relationships that are heavily complicated when his flamboyant and dangerous ex-wife, played by Penelope Cruz, shows up.
Steve Martin got a mixed reception when he dared to step into the late Peter Sellers' shoes as the bumbling French detective Clouseau in the 2006 remake of "The Pink Panther". The film made enough at the box office, however, to tempt him back in "Pink Panther 2" (Feb. 13, Sony Pictures). This time Clouseau teams up with a team of international sleuths targeting a thief who steals historical artefacts. Jean Reno and Emily Mortimer return from the first remake with John Cleese replacing Kevin Kline as the much-abused Chief Inspector Dreyfuss.
The cast also includes Andy Garcia, Yuki Matsuzaki, Alfred Molina and Aishwarya Rai. Jason Voorhees was also known for creating havoc but accompanied by screams and he's up to his old tricks in a remake of the 1980 original "Friday The 13th" (Feb. 13, Paramount). The machete wielding maniac, played by Derek Mears, causes mayhem when a group of young adults spend a playful weekend at Camp Crystal Lake, site of the first nightmare.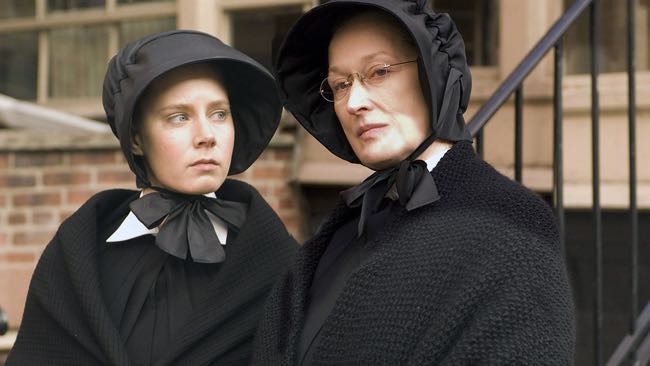 Meryl Streep, who has been nominated 14 times for an Academy Award and won twice, has two performances in possible contention this year. First there was her crowd-pleasing role in the global smash hit musical "Mamma Mia!" and now in a film version of the 2005 Tony Award winning play "Doubt" (Feb. 6, Walt Disney). Directed by playwright and screenwriter John Patrick Shanley, the story is set in 1964 at a Roman Catholic school in New York's Bronx. Streep plays the domineering Sister Aloysius, a traditionalist who rules with an iron fist and who instigates a furious campaign against Father Flynn (Philip Seymour Hoffman) based on flimsy suspicion of child molestation. Amy Adams, pictured with Streep, co-stars.
The second part of Oscar-winning director Steven Soderbergh's epic "Che" (also known as "Guerilla", Feb. 20, Optimum Releasing) is also likely to win plaudits from prize-givers. It finds the Argentine revolutionary in Bolivia participating in a failed coup. Puerto Rican-born Benicio del Toro continues as Che with cameos from Matt Damon and Franka Potenta. Jim Sheridan's "Brothers" (Feb. 27, Lionsgate UK) is a remake of a 2004 Danish film with the same title directed by Susanne Bier. Starring Jake Gyllenhaal, Toby Maguire, Natalie Portman, Sam Shepherd and Mare Winningham, it tells of a young man who looks after his older brother's wife and children when he is reported missing in Afghanistan.
Other coming attractions include:
Feb. 6: "He's Just Not That Into You" (Entertainment) is a romantic roundelay set in Baltimore with Ginnifer Goodwin, Jennifer Aniston, Jennifer Connelly, Scarlett Johansson, and Drew Barrymore involved with the likes of Justin Lon, Ben Affleck and Kevin Connolly (from TV's "Entourage"). It's directed by Ken Kwapis, who helmed the US television version of "The Office". "Push" (Icon) is a science-fiction adventure about a group of attractive young Americans with telekinetic and clairvoyant powers hiding from a sinister government agency.
"The Secret of Moonacre" (Warner Bros.) sees Dakota Blue Richards ("The Golden Compass") as a young woman in a strange enchanted place with costars including Ioan Gruffudd, Tim Curry and Natascha McElhone. "The Soloist" (Universal) is directed by Britain's Joe Wright ("Pride And Prejudice", "Atonement") and stars Robert Downey Jr. as a journalist who gets involved with a homeless and disturbed but talented musician played by Oscar-winner Jamie Foxx ("Ray").
Feb. 13: "Bolt-3D" (Walt Disney) is an animated adventure about a superdog with a voice that sounds like John Travolta. "Cirque du Freak" (Universal) has John C. Reilly as a leading member of a very strange and scary troupe travelling entertainers. "Hotel For Dogs" (Paramount) stars Don Cheadle, Emma Roberts, Lisa Kudrow and Kevin Dillon (from TV's "Entourage") in a tale of two kids who make a home for stray animals in an abandoned building. "They Came From Upstairs" (20th Century Fox) involves aliens, mind control, dumb parents and smart kids.
Feb. 20: "Confessions of a Shopaholic" is based on the popular books by Sophie Kinsella and tells of best friends Rebecca (Isla Fisher) and Suze (Krysten Ritter) as they go shopping for great accessories and boyfriends. The cast includes Hugh Dancy, Joan Cusack, John Goodman, and Kristin Scott Thomas under the direction of P.J. Hogan ("My Best Friend's Wedding"). "Outlander" (Momentum Pictures) pits Vikings against Aliens in 10th century Norway in a rousing and entertaining adventure featuring Jim Caviezel ("The Passion of the Christ"), Jack Huston, John Hurt, Sophia Myles and Ron Perlman. "Spread" (Delanic Films) is a sex comedy starring Anton Kutcher as a serial womaniser and Anne Heche as the woman he lives to regret jilting.
Feb. 27: "Hamlet 2" finds Steve Coogan as an over-the-top teacher at a high school in Arizona. "Paul Blart: Mall Cop" (Sony Pictures) features Adam Sandler sidekick Kevin James as a security guard fighting a crime spree. "The Unborn" (Universal) is a horror tale about a woman possessed with Gary Oldman playing a helpful Rabbi.
This article appeared in Cue Entertainment.