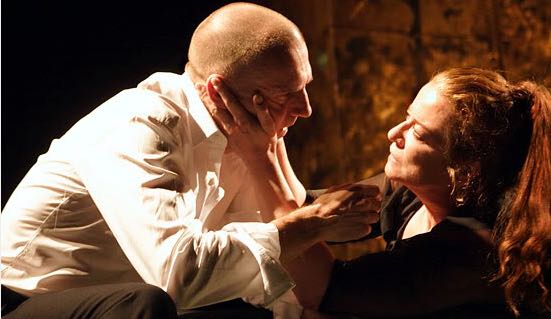 By Ray Bennett
LONDON – Bloodied and screaming, Ralph Fiennes brings the tortured title role of Sophocles' "Oedipus" to vivid life in a new version by Irish playwright Frank McGuinness.
On a set that is both stark and imposing and in the modern dress of a city banker about to go under, Fiennes portrays a character whose endless curiosity about himself leads to dire revelations and bleak self-imposed punishment.
McGuinness takes the tale of a would-be leader whose relationship with his mother is the source of much scandal making and fear, and turns it into a mystery story. The man's tragedy is that the villain he is seeking turns out to be himself and that's too great a burden to bear.
Fiennes has the ability to appear distant and severe both on screen and onstage and the early scenes in the play show him trying to overcome that reserve in order to win the support of the city-state elders.
They are played as a kind of Greek chorus, given to singing their lines of gossip and concern over the mental state of a leader whose grip on power is becoming as fragile as his grip on his imagination and emotions.
Director Jonathan Kent moves the action along at an increasingly biting pace as Oedipus gets closer to the truth about the nature of his birth and the identities of his father and, more important, his mother, played with typical force by Clare Higgins (pictured with Fiennes).
McGuinness makes the political circumstances and the quality of Oedipus's hubris smack with topicality since this frantic character's world is crumbling around him and he is increasingly lost in knowing what to do, like many a leader today.
The act of self-mutilation in which Oedipus stabs out his eyes takes place offstage but when he steps out with his white shirt splashed with bright red blood and Fiennes gives full voice to his anguish, it's an unforgettable sight.
The National has assembled a typically fine cast with Alan Howard excellent as the mocking prophet Teiresias and Higgins almost wanton in her desire not to divulge intimations of motherhood. But it's the performance of Ralph Fiennes that gets in the blood and stays there.
Venue: National Theatre, London, runs through Jan. 4; Cast: Ralph Fiennes, Clare Higgins, Alan Howard, David Burke, Jasper Britton, Malcolm Storry, Alfred Burke, Gwilym Lee; Playwright: Sophocles in a new version by Frank McGuinness; Director: Jonathan Kent; Set Designer: Paul Brown; Lighting Designer: Neil Austin; Music: Jonathan Dove; Sound Designer: Paul Groothuis.
This review appeared in The Hollywood Reporter.