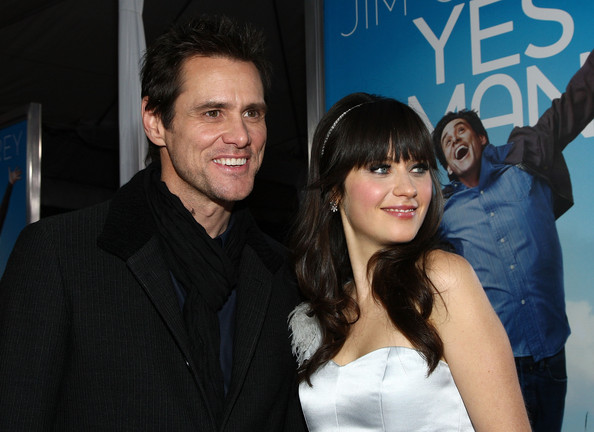 By Ray Bennett
It was great to see that Jim Carrey still pays tribute to my late friend Bruce Blackadar for helping the Canadian comedian break into the big time. At a London press conference for his new film "Yes Man", I mentioned that I had seen Carrey perform at Toronto's Yuk Yuks comedy club back when Bruce was writing about him.
He took the time to explain to the UK entertainment press corps:
"Yes, he was a huge help to me. His was one of the first big articles I ever got and of course it was in the Toronto Star, so it was a big deal. That was a very pivotal moment for me. It was the thing that catapulted me in Canada to being known nationally, so I really am grateful to him for that. He gave me a lot to live up to too. He said something like 'He'll be bigger than Richard Pryor in six months.' I was crazy, I was like 'Wha-at?' 'Johnny Carson hasn't seen anything … ' It was really fun."
I spoke to Carrey afterwards and he hadn't heard that Bruce, who started out with me at The Windsor Star, had died. I told him what a great friend Blackie had been as well as a great writer. "Well," Carrey said. "You know nobody really dies."
"Yes Man", which co-stars Zooey Deschanel (pictured with Carrey), Bradley Cooper and Terence Stamp, tells of a man who decides to say yes to everything and the word from Hollywood is that Carrey's deal with Warner Bros. on the movie  involved no upfront payment so that he could make very little or end up with £75 million.
No wonder Carrey said yes to every opportunity to promote the movie including a major junket in London for the UK premiere in December. Now in theatres, the film's DVD release is due in April.
Not that the Canadian comic is a slacker when it comes to beating the drums for his films. He showed up on TV's "American Idol" wearing an elephant hat to promote "Horton Hears a Who!", which grossed $297 million worldwide this year.
Critics haven't always admired his choices, but audiences still love him so that even his flops make money. "Fun With Dick and Jane" garnered $202 million around the world in 2005 and while the serious "Eternal Sunshine of the Spotless Mind" made just $72.2 million, it had only a $20 million budget and won him critical praise plus BAFTA and Golden Globe nominations.
When Carrey pulls out all the comedy stops in something like "Bruce Almighty" in 2003, it scoops up $485 million. "Yes Man" received warm early reviews and Carrey says it's an illusion that he's left his trademark comedy films behind.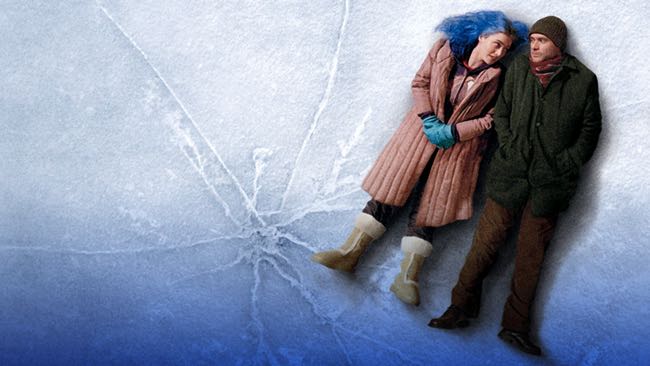 He says, "I just do whatever I'm attracted to. The scripts find you when you're emotionally in the right place to do them. At the time of 'Eternal Sunshine' (pictured above with Kate Winslet), I was broken-hearted. The director Michel Gondry said, 'You look beautiful like this.' I said, 'But we don't shoot for a year.' He said: 'Then don't get well.' So I said, 'I'm gonna try to have a good time but don't worry, I can open up the wound again'."
He says he took "Yes Man" because of its optimism: "I know what it's like to be a shut-in. With this movie, I wanted to put something good out into the world, something that makes people feel good. I hope there'll be a change in the paradigm from cynicism to faith in better things to come. People have said they left the theatre after this movie thinking about what they can say yes to."
In the film, Terence Stamp (pictured with Carrey below) plays the guru of positive thinking whose self-help classes lead Carrey's character to become a yes man. Carrey says he'd always wanted to work with the British star, who is known as much for his colourful life and firm opinions as his acting: "We had conversations about gluten-free diets and about Brigitte Bardot. Not too bad. He's lived a life and he's an amazing actor. It's pretty hard to crack him but he has a nutty inside quality. There's madness in his eyes."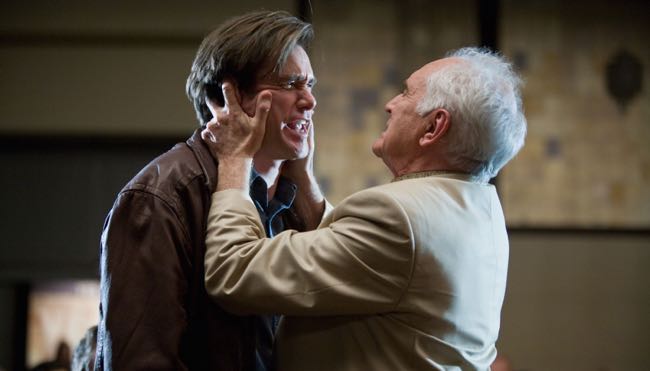 There are some who feel the same way about Carrey and he agrees that his career was not always a steady climb: "I've lived the dream. I'm the luckiest guy in the world and I never forget that. I'm living proof of positive thinking, and that faith is more important than talent. In those early days, there were so many times when I was up and down, had those little thrills and then was washed up. People would say, 'He's had his shot, it's over'. But I never thought I was finished when people said I was finished."
He still puts everything into his work and he broke three ribs doing a pratfall in a bar scene in "Yes Men", he says: "Half-way through the pratfall, I changed my mind. I've done pratfalls all my life. I know how to do them. But I decided I wanted to get all four limbs up into the frame at the same time." He carried on and finished the scene: "All I cared about was how it looked."
He also did a bungee jump off a bridge. For insurance purposes it had to be done on the last day of shooting but Carrey could not be talked out of it, although he said, "My sphincter was so tight I could have made a diamond. Shortly after that, DeBeers bought my ass."
A version of this story appeared in Cue Entertainment.