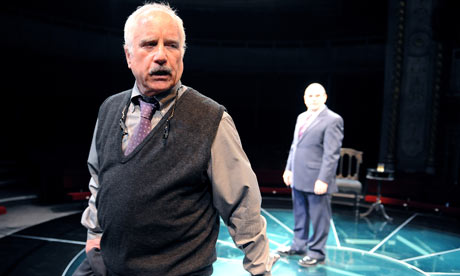 By Ray Bennett
LONDON – Government sanctioned torture and freedom of the press are topics of explosive dramatic potential but Joe Sutton's new play "Complicit," which has opened at the Old Vic, misses the opportunity.
Richard Dreyfuss plays Benjamin Kritzer, a Pulitzer Prize-winning journalist who has written about the harsh treatment of political prisoners and has now been hauled before a Grand Jury where a prosecutor threatens him with a long prison sentence if he does not reveal his source.
The play, staged by director Kevin Spacey in the round, keeps the courtroom drama offstage, however, preferring to focus on the interaction between Kritzer, his fearful wife, played by Elizabeth McGovern, and his wily lawyer (David Suchet). Meanwhile, video screens reveal the nature of Kritzer's writing via a television interview.
There is much talk about modern-day threats to America and the West, and how to deal with implacable enemies. Kritzer reveals himself as deeply conflicted on the issue as his wife whines about him protecting his family and his lawyer makes slick deals behind his back.
None of the characters rings true, though, with Dreyfuss especially stranded in a poorly defined role. Veteran investigative reporters, especially those with a Pulitzer, tend to be dogged if not pugnacious but this guy is all self-pity and liberal guilt.
The play's opening was delayed a week to give it "more development time" while preview audiences reported that Dreyfuss had trouble with his lines. On press night, he wore a visible earpiece although he didn't show any sign that he needed it. The Oscar-winning actor remains capable of gripping an audience with the passion of his delivery.
McGovern has only a moment or two to shine between bouts of nagging about her husband's duty to family over country while Suchet invests the lawyer with more cunning than resides in the words he's given.
But there is little the actors – or director Spacey, who chose to put on the production as the Old Vic's artistic director – can do with a dull and wordy play that touches on important questions but makes no real stab at finding answers.
Venue: The Old Vic, London, runs through Feb. 21; Cast: Richard Dreyfuss, Elizabeth McGovern, David Suchet; Playwright: Joe Sutton; Director: Kevin Spacey; Set designer: Rob Howell; Lighting designer: Howard Harrison; Video designer: John Driscoll; Sound designer: Simon Baker for Autograph.
This review appeared in The Hollywood Reporter.