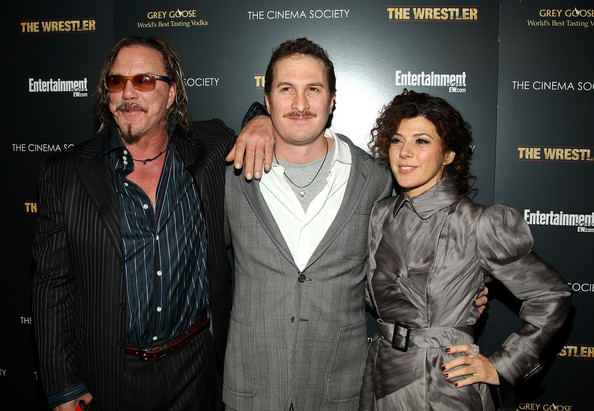 By Ray Bennett
British director Darren Aronofsky says he thinks Mickey Rourke still hasn't seen "The Wrestler", the picture they made about a beat-up fighter that has resurrected the actor's career. He might not have seen it but, boy, has he been talking about it.
Rourke says that making the film required months of muscle-building and training, and included several trips to the hospital, but no matter how hard that was, it's nothing compared to the marathon he's been on in promoting it.
From Venice last year, where "The Wrestler", which costars Marisa Tomei (pictured with Rourke and Aronofsky) won the big prize, the Golden Lion, to Toronto, where critics raved about him, to the Golden Globes, where he won as best actor in a drama, Rourke has proved indefatigable in talking about the film.
Made for peanuts, the film hasn't torn up the box office but if it does well in the Bafta awards on Sunday and especially later this month in the Oscars — and Rourke is in with a great shout as best actor against the other favourites, Sean Penn for "Milk" and Frank Langella for "Frost/Nixon" — then things will pick up and the promise for DVD and Blu-ray looks high for Optimum, which released the film in the UK in January.
Rourke did all the major talk US shows from Letterman to Jay Leno and, in the UK, showed up not only on the breakfast TV shows but also Graham Norton's talk show where he flirted outrageously with Jessica Biel.
What has made Rourke's appearances so appealing is that he has that most unlikely of American stories to tell: the second act. Having made a mark as an arsonist in "Body Heat" (1981), he leapt to fame in "Diner" (1982) and was soon starring in pictures such as "The Pope of Greenwich Village" (1984), "Year of the Dragon" (1985) and "Nine and a Half Weeks" (1986). He had three movies in 1987 — "Angel Heart", "Barfly" and "A Prayer For the Dying" — and then suddenly it was all over.
Rourke became Hollywood's favourite bad boy, branded as ego-driven, difficult and on his way down. The actor now makes no bones about it. Speaking in London at a Q&A, he said: "Coming up as a young actor, because of where I came from, there were no rules and I wasn't accountable. I didn't care about repercussions so whatever happened the night before, I didn't really give a damn what the repercussions were and the repercussions were severe because I was out of control."
As a result, he spent 14 years out in the acting cold and spent several of them as a professional boxer, another skill he'd learned while young, he says: "I was boxing many years before I was acting. I had injuries that meant I had to stop. I got into acting by accident."
But he studied hard and had the luck, but things changed: "Then I was starting to make a lot of money for the first time in my life. I'd never had any money. I bought the biggest car, the biggest house. Next thing I know, I'm doing movies to pay off my lifestyle. What happened was I lost hold of what meant the most to me.
"I took jobs that I didn't respect the material, didn't respect the director, didn't respect myself for doing them, and that's when I started to short-circuit because I was taking jobs for all the wrong reasons. Once that happened more than two or three times, I just lost respect for myself and for the profession."
Aronofsky rescued him. He'd won back a little respect with his appearance in "Sin City" but while his name is on a bunch of films over the years, he rarely worked on them for more than a couple of days.
Rourke says, "He came over and after he introduced himself he said, 'Well, you've ruined your career for the last 15 years and I can't raise any money, nobody wants you … but if I put you in this movie' — and he put his finger in my face — 'You're going to listen to everything I tell you. You're going to do everything I say. You're not going to be running around in the clubs all night long. And you can never disrespect me in front of the crew. And I can't pay you.' I thought, 'Well, OK, he's smart and he's got a lot of balls.'"
Still Aronofsky had to fight to keep Rourke in the picture. The studio wanted Nicolas Cage but the director knew who would be perfect in the role, and he won the day. Now Rourke is in line to play a villain in the "Iron Man" sequel. A great second act.
This story appears in Cue Entertainment.