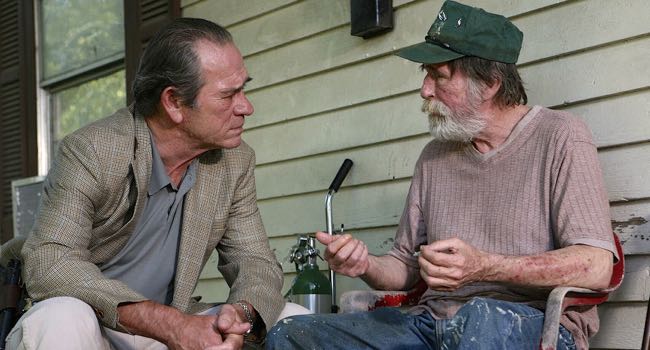 By Ray Bennett
BERLIN – There are several reasons to like French director Bertrand Tavernier's handsome and atmospheric feature "In the Electric Mist," which had its world premiere at the Berlin International Film Festival tonight, not least the sumptuous cinematography by Bruno de Keyzer, who has collaborated with the director more than once but most impressively on the jazz classic "Round Midnight" (1986).
Tommy Lee Jones gives a shrewd and witty performance as crime writer James Lee Burke's iconic Louisiana law officer Dave Robicheaux, in an adaptation by Jerzy Kromolowski and Mary Olson-Kromolowski of the bestseller "In the Electric Mist With Confederate Dead."
Tavernier surrounds Jones with some fine actors in good form including Peter Sarsgaard, John Goodman, Mary Steenburgen and Kelly MacDonald. But the strong cast goes deep with Ned Beatty, James Gammon (pictured with Jones), Levon Helm, Bernard Hocke, Pruitt Taylor Vince, Justina Machado, Julio Cesar Cedillo and Walter Breaux.
One of the richest pleasures is the music, which combines an evocative score by Marco Beltrami ("Hellboy," "Live Free or Die Hard") with tracks by artists including Buddy Guy, who has a key role in the film as Sam "Hogman" Patin revealing crucial information to Det. Robicheaux.
Here's what Tavernier had to say about the music in the production notes for "In the Electric Mist":
On Marco Beltrami: "From day one, I wanted to work with him because he'd impressed me with his scores for 'The Three Burials of Melquiades Estrada' and '3:10 to Yuma'. He was thrilled because most of the time in Hollywood, composers are hired when the shoot wraps. He even went to Louisiana to get the feel of Cajun music and talk with musicologists. This helped us determine 'way in advance the use of percussion instruments or of the accordion, or of the different musical themes. Besides, he gave me leeway to do what I wanted during sound mixing since he recorded all the instruments on a separate track."
On using sourced tracks: "This is music I personally picked, like Clifton Chenier's 'I'm a Hog For You' and 'Coming Home'. Or like Michael Doucet's 'Rendez-moi Pauline' and 'J'ai passé devant ta porte', which I found out about thanks to the Cajun crew members and fell in love with. For the ending, I used a Handel aria because I wanted to break away from the Cajun musical atmosphere we'd grown accustomed to – I then needed religious music that matched the crane camera work and the mist over the graveyard."