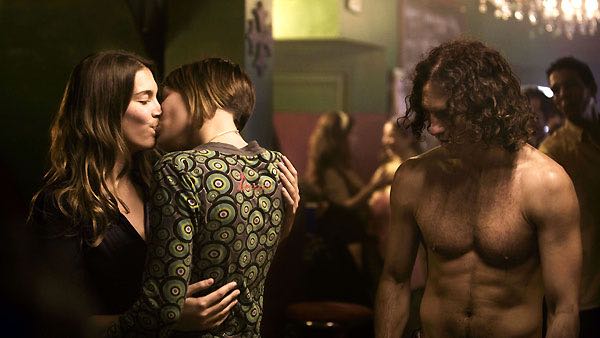 By Ray Bennett
BERLIN – Former Danish model Rie Rasmussen, who had the lead role in Luc Besson's 2005 film "Angel," writes, directs, edits and stars in her ambitious first feature, "Human Zoo," about a woman haunted by her hellish experiences in the war-torn Balkans.
Set in racially divided Marseilles, with constant flashbacks to events in Kosovo, the film tries to mix a kind of fascist chic in its depiction of nihilistic crime in post-war Belgrade and a sober statement about changing borders and saving souls with a very mushy romance.
Rasmussen plays Adria, whose mother was a Serbian Christian and whose father was an Albanian Muslim, which means she faces hatred from all sides when the former Yugoslavia breaks into pieces. Saved from a killing squad by a ruthless soldier named Srdjan, who fires on his own officers and then deserts, she accompanies him to Belgrade where he begins a lucrative trade in gunrunning and murder.
Always a hoodlum but now with military training, Srdjan — played with terrific charisma by Nikola Djuricko — is fearless and merciless in his treatment of criminals on both sides of the law who have exploited the region's chaos for their own ends.
He is a flat-out bad guy, but he grows to care for Adria and Rasmussen's script gives him enormous charm even as he brutalizes innocents and murders men, women and even a child. Adria learns some of the ugly skills of his trade including how to handle a revolver and, with her hair cut in a jaunty bob, Srdjan even refers to them as Bonnie and Clyde.
The story of how Adria ends up in Marseilles is gradually revealed but meanwhile she has encountered a footloose American named Shawn (Nick Corey) and fallen in love. Helped by a local woman (Hiam Abbas) and her husband who also have adopted an immigrant girl, Adria resorts to violent action when the girl is kidnapped by Russian sex-traders.
The film demonstrates that Rasmussen has much to offer as a filmmaker although it's too uneven to be called a success. The Belgrade scenes are performed in the local language and are entirely convincing but the sequences in Marseilles are done in English and suffer greatly for that.
Rasmussen holds the screen credibly but while Corey is a hunk and gets to frolic with Rasmussen in some very explicit sex play, he's a lightweight compared to Djuricko, and the stilted English dialogue leaves even the wonderful Abbas ("The Visitor") stranded.
Venue: Berlin International Film Festival, Panorama; Cast: Rie Rasmussen, Nikola Djuricko, Nick Corey, Hiam Abbass; Writer-Director: Rie Rasmussen; Director of photography: Thierry Arbogast; Production designer: Hugues Tissandier; Music: Illinav Illim; Costume designer: Joanna Georges Rossi; Editor: Rie Rasmussen; Producer: Luc Besson; Executive producer: Didier Hoarau; Production: Europacorp; Sales: Europacorp; Not rated; running time, 110 minutes.
This review appeared in The Hollywood Reporter.