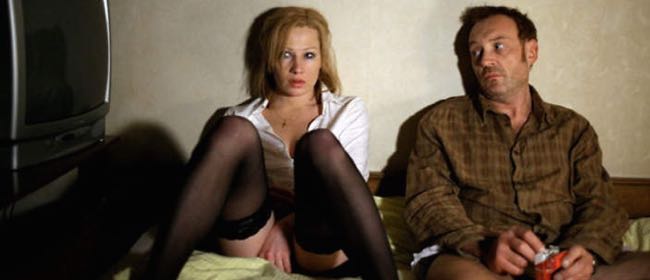 By Ray Bennett
BERLIN – Austrian comedian Josef Hader returns as lugubrious former police officer Simon Brenner in "The Bone Man," the third of director Wolfgang Murmberger's screen versions of the blackly comic crime novels by Wolf Haas.
Star, director and novelist combine on the screenplay just as they did on "Come Sweet Death" (2000) and "Silentium!" (2005), and Simon Schwartz returns as Brenner's fusspot boss Berti, who kicks off a bizarre tale of blackmail, murder and cannibalism by sending the doleful ex-cop into the countryside to repossess a car.
Full of eccentric characters, strange twists and dead bodies, "The Bone Man" has a cheerfully twisted sense of humor and considerable tension as the head of a very odd family resorts to murder to get himself out a of a jam. Ranking with the noir thrillers of the early Coen Bros., the film's boxoffice prospects are lively.
When Brenner is dispatched into the snowy hinterland to reclaim a yellow Beetle from a man named Horvath who is late with payments, he has no idea what he's walking into. He tracks the man to the Loschenkohl Inn where he gets the cold shoulder from owner (Josef Bierbichler), his daughter-in-law Birgit (Birgit Minichmayr) and a waitress named Alex (Pia Hierzegger).
Deciding that Horvath has some connection to the inn, the mournful and reluctant repo man digs about unaware of the murderous drama going on around him. This involves Loschenkohl and a blackmailing pimp named Eugenev (Stipe Erceg) from Bratislava with the hotel owner's layabout son Pauli (Christoph Luser), who is married to Birgit, determined to wreck his father's plans to marry his young girlfriend (Edita Malovcic).
The growing intrigue and tension are underscored by what goes on in the basement of the inn where Loschenkohl has a machine with a lot of blades that renders leftovers from the restaurant — mostly the house specialty, chicken — that is sent in buckets to a nearby chicken farm.
The gruesome images of decimated and crushed bones add colorful counterpoint to the mayhem that takes place involving guns, car crashes, meat hooks and cleavers. But it's all done with great flare and droll optimism despite the nefarious goings on and the unlikely romance of Brenner and Birgit is handled very deftly.
Venue: Berlin International Film Festival, Panorama; Cast: Josef Hader, Josef Bierbichler, Birgit Minichmayr, Christoph Luser, Simon Schwartz; Director: Wolfgang Murnberger; Screenwriters: Josef Hader, Wolfgang Murnberger, Wolf Haas; Director photography: Peter von Haller; Production designers: Andreas Donhauser, Renate Martin; Music: Sofa Surfers; Costume designer: Martina List; Editor: Evi Romen; Producers: Danny Krausz, Kurt Stocker; Production: Dor Film; Sales: Atrix Film; Not rated, running time, 121 minutes.
This review appeared in The Hollywood Reporter.