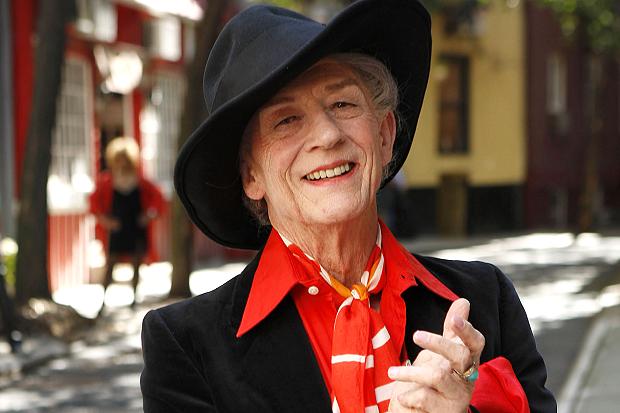 By Ray Bennett
BERLIN – When John Hurt portrayed Quentin Crisp in the movie "The Naked Civil Servant" 33 years ago, it gave Crisp the stardom he'd always craved. Now Hurt is back in the same role in "An Englishman in New York," which shows what happened when Crisp landed as a gay icon in Manhattan.
Made for U.K. TV, the film will air there on ITV1 this year but it will make the rounds of international festivals and probably show up on a US cable channel. It deserves to be seen for another of Hurt's exquisitely observed performances in which he furthers his claim to be the straight actor who has played the highest number of gay roles.
Written by Brian Fillis and directed by Richard Laxton, the film shows Crisp in his 70s when, having survived life as a gay man in the days when homosexuality was illegal, he flees still intolerant England for New York where his eccentric flamboyance is welcomed and celebrated.
Feeling right at home, he wins a green card after convincing immigration officials that he is truly one of a kind and is picked up by a savvy agent played by Swoosie Kurtz. He launches a career as a raconteur in an off-Broadway one-man show and becomes a movie reviewer for a Christopher Street magazine run by Philip Steele (Denis O'Hare).
Taking a tiny and shabby apartment — "Housework is a mistake," he says — he becomes a fixture on what he calls "the champagne and peanuts" circuit. Crisp's spontaneous words of wit and wisdom earn him an high place in the gay community with regular appearances on radio and TV but then one of his comments gets him in trouble.
"AIDS is just a fad," he declares, and his gay audience, now starting to really suffer from the epidemic, turns away from him. Declining to retract or explain his remark, Crisp is dropped by his agent and editor until his eyes are opened when he gets to know young artist Patrick Angus (Jonathan Tucker), who is dying of AIDS.
Rescued by performance artist Penny Arcade (Cynthia Nixon), who puts him back on stage, and with Steele proving a loyal friend, the iconic figure lives into his 10th decade and once again wins over the gay community.
Crisp's writing and performances provide much of the dialogue as he fulfils his destiny in becoming a dispenser of aphorisms that are rendered by Hurt with immense poise and charm. The actor is too good, however, not to reveal some of the man's doubts and loneliness in a fully rounded performance.
Venue: Berlin International Film Festival, Panorama; Cast: John Hurt, Denis O'Hare, Jonathan Tucker, Swoosie Kurtz, Cynthia Nixon; Director: Richard Laxton; Screenwriter: Brian Fillis; Director of photography: Yaron Orbach; Production designer: Beth Mickle; Music: Paul Englishby; Costume designer: Joey Attawia; Editor: Peter H. Oliver; Producer: Amanda Jenks; Executive producers: James Burstall, Joey Attawia, Susie Field Production: Leopardrama; Sales: Leopard International; Not rated; running time, 74 minutes.
This review appeared in The Hollywood Reporter.