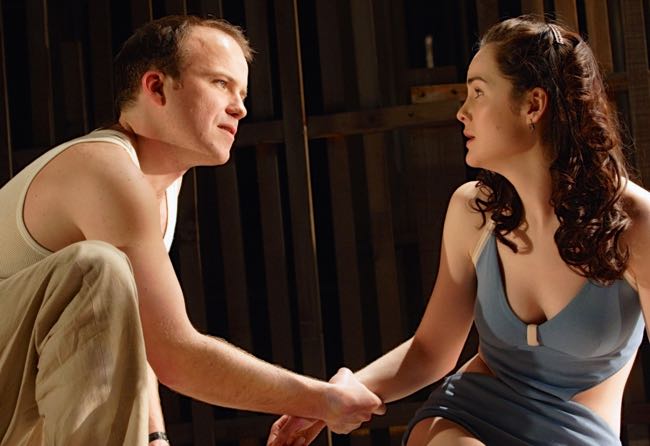 By Ray Bennett
LONDON – The Gulag comes to Chekhov in "Burnt By the Sun," Peter Flannery's absorbing stage adaptation of Nikita Mikhalkov's 1995 foreign-language Oscar-winning film.
The story is set just before the Second World War as Russian dictator Joseph Stalin was unleashing his terrible purges in what became known as the Great Terror that caused forced migration, imprisonment and as many as two million deaths.
Ciaran Hinds stars as the former Bolshevik officer Kotov who clings to the belief that Stalin still intends to fulfil the goals of the revolution. He leads a lazy but comfortable life with young wife Maroussia (Michelle Dockery) and their daughter Nadia (played alternately by Skye Bennett and Holly Gibbs), and assorted members of her family enjoying country life and sunny days at the beach.
It's very reminiscent of a Chekhov play until a surprise piano-playing visitor bursts in wearing long hair, a top hat and dark glasses to reveal himself as a young man named Dmitri Andreevich (Rory Kinnear, pictured with Dockery), who was once Marrousia's lover.
Kotov is immediately suspicious and the motives of all three are thrown into question as the truth about Dmitri's long-ago departure and Marrousia's reaction to it are revealed along with Kotov's role in his rival's exile. Like the film, the play explores secrets and lies in relationships with the implications greater due to the horror of Stalin's repression.
Veteran Hinds is imposing and grave as Kotov while Dockery, who was so good as Eliza Doolittle in "Pygmalion" at the Old Vic last year, conveys Marrousia's confusion and vulnerability movingly. Kinnear is called upon to sing, dance and clown around and then reveal himself as a cold-blooded Soviet thug, and he does it all spectacularly well.
The play follows closely the film's screenplay by Mikhalkov and Rustam Ibraginbekov with Vicki Mortimer's handsome set recreating the film's dacha and Christopher Shutt's sound design featuring lots of rockets, tanks and airplanes trying to make up for the absence of the film's excellent cinematography.
Venue: National Theatre, London, runs through May 21; Cast: Ciaran Hinds, Michelle Dockery, Rory Kinnear, Stephanie Jacob; Playwright: Peter Flannery, from the screenplay by Nikita Mikhalkov and Rustam Ibragimbekov; Director: Howard Davies; Set designer: Vicki Mortimer; Lighting designer: Mark Henderson; Sound designer: Christopher Shutt; Music: Ilona Sekacz.
This review appeared in The Hollywood Reporter. Photo by Catherine Ashmore.