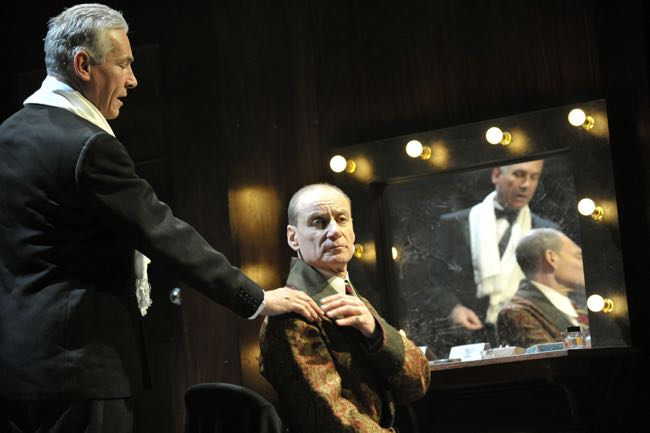 By Ray Bennett
LONDON – At a time when Sean Penn is honoured for playing a gay man who was slain, Nicholas de Jongh's dull play "Plague Over England," about how legendary British Shakespearean actor John Gielgud was embarrassed in the 1950s when he was fined for soliciting in a gent's toilet, seems like very small beer.
The portentous title is taken from words spoken by the British home secretary at a time when homosexuality was illegal but the fuss over Gielgud's conviction was largely a tabloid newspaper event.
The court fined him £10, the British theatergoing public greeted him with standing ovations and having won a Tony Award in 1948 as part of an ensemble, Gielgud went on to win two more plus a Grammy, an Emmy and in 1981 an Oscar as best supporting actor in the hit Dudley Moore comedy "Arthur."
In the play, the sensitive actor is seen anguishing more over what the newspaper headlines will do to his career than demonstrating anger over the political climate that allowed him to be victimized.
Michael Feast (pictured) makes a fair stab at looking and sounding like the uniquely gifted performer but the playwright chooses not to go very deep into what makes him tick. There are some entertaining scenes in the theater with Gielgud rehearsing with another theatrical legend, Sybil Thorndike, played wittily by Celia Imrie ("Calendar Girls").
De Jongh attempts to provide context with several subplots to show the petty and vindictive intolerance of the government even as gay men prospered within its ranks and among politician's sons. But the dialogue is full of lame puns and double entendres, and scenes move in a blur from a Victorian public toilet, to backstage, to a very camp drinking club and on to Westminster.
One subplot torpedoes the play badly as it shows the young undercover policeman who entrapped Gielgud promptly being picked up by another young man. Later they tear each other's clothes off lustily in a clumsily staged scene set against the minister preparing his hateful speech.
The way gay men were treated in Britain in those days was shameful and many suffered horrendous consequences but on this evidence for Gielgud it was just a mild inconvenience.
Venue: Duchess Theatre, London, runs through May 16; Cast: Michael Feast, Celia Imrie, David Burt, Simon Dutton; Playwright: Nicholas de Jongh; Director: Tamara Harvey; Set designer: Alex Marker; Costume designer: Trish Wilkinson;; Lighting designer: James Farncombe; Sound designer: Theo Holloway; Music: Alexander S. Bermange.
This review appeared in The Hollywood Reporter.