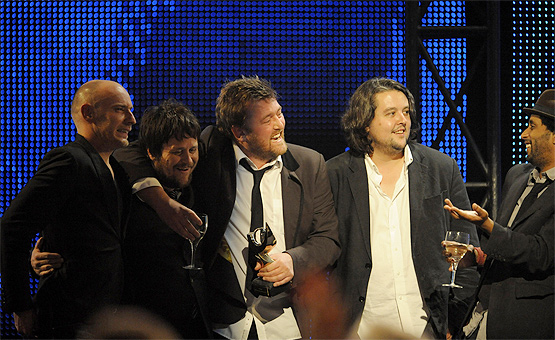 By Ray Bennett
LONDON – Mercury Prize and Brit Award winners Elbow are the best band in the land.
London's Wembley Arena on March 14 was jammed to the rafters for a two-hour concert that showed the Bury lads at their best. Musically intelligent, rambunctious rock 'n' roll is their stock in trade and they gave full measure.
When they stopped mid-way for a round of shots, as any pub band worth its salt would, it added to the appeal of a hard-working unit that soars behind the extraordinarily versatile and pleasing voice of Guy Garvey. He also writes the lyrics of melodic songs that have wit and bite, and stay in the mind.
Their four Universal albums, especially the latest, "Seldom Seen Kid", were well represented in their concert, which ended with a spectacular rendition of "One Day Like This" as the arena filled with blowing streamers and silver paper.
It's the kind of music that makes every morning look like a beautiful day.