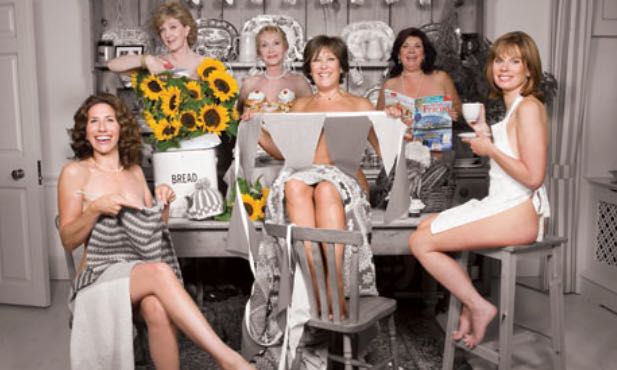 By Ray Bennett
LONDON – It's not a musical, but screenwriter Tim Firth's stage version of his script for the hit 2003 Nigel Cole film "Calendar Girls" takes aim squarely at the audience that flocked to see "Mamma Mia!" and hits its mark.
Sharing the same canny, if unsophisticated, mix of inoffensive titillation and sentimentality as the original, the play tells the real-life tale of a group of middle-aged English women who strip down for a charity calendar and become instantly famous.
The movie boasted such top-line screen talent as Helen Mirren and Julie Walters, and the theatrical production at London's Noel Coward Theatre features big names from U.K. stage and television including Patricia Hodge, Lynda Bellingham and Sian Phillips.
Fashioned by Firth and director Hamish McColl as a two-hour crowd-pleaser, the play follows the film in establishing the contented but dull lives of the women of a village in Yorkshire.
After Chris (Hodge) loses her husband to leukemia, mischievous pal Annie (Bellingham) suggests their group of members of the Women's Institute should make a daring calendar in order to raise money for the local hospice.
The funniest sequence in the play is a very clever piece showing the women doing various homely tasks in the nude and being snapped by a bashful photographer (Carl Prekopp).
Keeping the action at home in the village, the play doesn't bother with the film's excursion to Hollywood, and the result is a well-packaged tale with plenty of down-home laughs and a nod to the serious point of making the calendar.
Hodge and Bellingham make fine leads, and Phillips is given some razor-sharp lines as a flinty senior whose sense of humor is much broader than it first appears. Elaine C. Smith is great fun as a tattooed Scottish piano player, Gaynor Faye (from TV's "The Chase") is suitably glamorous as the buxom woman whose photo is going to need "considerably bigger buns," and Julia Hills is convincing as a vulnerable wife married to a bully. Brigit Forsyth plays the WI group's snobbish leader as counterpoint to the others with terrific comic timing.
The play lands in London following a national tour, so the ensemble meshes together very well, making the most of designer Robert Jones' clever sets and Emma Williams' inventive costume designs, which draw on the film's use of sunflowers and manage to maintain the modesty of a gallant cast.
Venue: Noel Coward Theatre, London, runs through Sept. 19; Cast: Patricia Hodge, Lynda Bellingham, Sian Phillips, Elaine C. Smith, Gaynor Faye, Julia Hills, Brigit Forsyth; Playwright: Tim Firth; Director: Hamish McColl; Set designer: Robert Jones; Costume designer: Emma Williams; Lighting designer: Malcolm Rippeth; Sound designer: John Leonard; Music: Steve Parry.
This review appeared in The Hollywood Reporter.