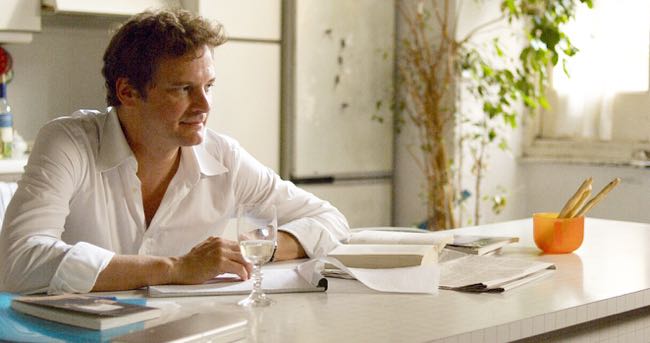 By Ray Bennett
LONDON – It was a demonstration of Colin Firth's considerable acting range when he donned Spandex tights and cavorted about to Abba tunes at Pinewood Studios for the monster hit "Mamma Mia!". An even greater testament to the British actor's professionalism, however, was that at the time he had to dash back and forth to Italy to play a bereaved father in Michael Winterbottom's sombre drama "A Summer in Genoa".
"Mamma Mia!" went to No. 1 with a bullet upon its release both in theatres and on disc, but "Genova", which was in theatres in March and is due soon on disc from Metrodome Distribution, took a lot more nurturing.
Firth plays the father of two daughters, played by Willa Holland ("The O.C.") and Perla Haney-Jardine ("Spider-Man 3"), who are still mourning the death of their mother when he takes them on a year's teaching contract in the Italian city. The film made the rounds of film festivals from Toronto to San Sebastian and Warsaw to Hong Kong before its release.
It also got a splash at last year's London International Film Festival and even though "Mamma Mia!" got all the attention, Firth thought enough of the picture to promote it with enthusiasm including a screening and Q&A at London's Curzon Soho.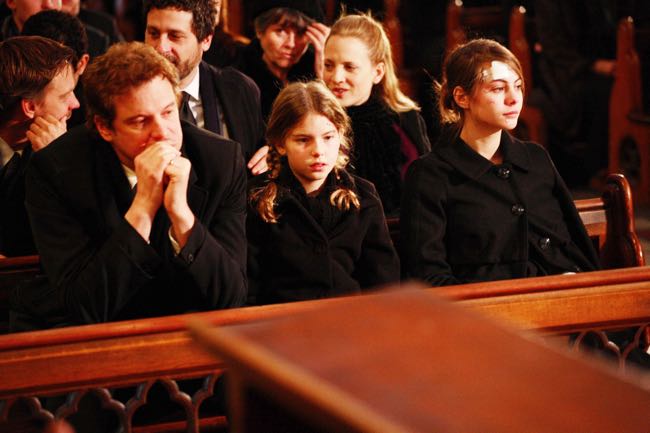 Firth's working relationship with British director Winterbottom, whose wide range of films include "24 Hour Party People", "A Mighty Heart" and the upcoming documentary "The Shock Doctrine", goes back to "Welcome to Sarajevo" more than 10 years ago.
Firth says, "I found him personally extremely engaging and also his films were so outstanding and outside the kind of stuff I'm associated with. His work is so diverse."
Despite that, he did not sign on for that film: "I didn't find the script that interesting but I found the film to be brilliant, and that's a very, very unusual thing. All the years of experience that I have tell me that the script determines most of it. Not that 'Sarajevo' was a bad script, just that it didn't engage me, but the film did. Michael took a script that I hadn't seen in it what he obviously had, and from then on I was sort of hooked by his work and so I responded to 'Genova' before I even read it."
Still, Firth found Winterbottom's methods of working quite different from what he was used to: "When he talks to you, he doesn't really expound or theorise. He creates these extraordinary things with all these visions going on but he doesn't give much away, there's no airy-fairy poetry about it."
In the film, the busy and imposing city of Genova is very much a character as the father and his daughters seek to recover from their loss and there are scenes where the lost loved one is seen in visions. "I said, 'Isn't this "Don't Look Now"?'" Firth says, and adds that Winterbottom did not take exception to his reference to the famous Nicolas Roeg film.
Firth says: "He didn't mind because his idea was clearly much more personal. It starts with Genova and it very much ends with Genova. Genova isn't just the starting point that fades into the background. That city is as much a character in the film as anybody."
The director's guerrilla shooting style was also different, especially compared to the big-budget luxuries of the Abba film. For "Genova", he shot entirely on location with a tiny DV camera and no lights, no extras and no security. That held true for scenes on an airplane, in the family's claustrophobic apartment, and on the packed beach at Camogli, Genova's nearby seaside resort.
Firth says, "We were on that crowded beach and I can't tell you how much of a nightmare I found that to be. I find it a nightmare to be on a crowded beach anywhere, especially in Italy, even when there aren't cameras around. Horrible!"
He says, though, that he accepted the challenge of going from a big set to no set at all as being part of an actor's job definition: "I thought of those people in weekly rep in the old days when you weren't quite sure if it was 'Othello' tonight or 'Hamlet, and they do the whole role. It was completely absurd. There are scenes in 'Genova' where I had to act in that intimate environment with a small family while I was still aching from spandex."
This story appeared in Cue Entertainment.