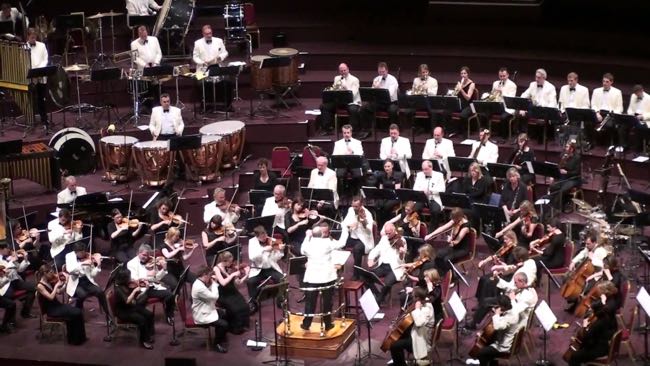 By Ray Bennett
The Royal Philharmonic Orchestra's annual Filmharmonic concert at the Royal Albert Hall on Friday night kept a large crowd of film music enthusiasts entertained with scores by top composers including John Williams, Maurice Jarre, John Barry, Lalo Schifrin, Howard Shore and Hans Zimmer.
David Arnold was on hand to direct the orchestra playing his themes from "The Stepford Wives," "Quantum of Solace" and "Casino Royale", and Debbie Wiseman took the baton for suites from "Tom & Viv" and "Lesbian Vampire Killers."
Paul Bateman conducted the rest of a two-hour show with presenter Tommy Pearson providing useful context and witty banter between sets. Pearson also introduced the two guest composers who looked very pleased to be there.
Arnold drew a huge laugh when he mentioned that in "Stepford Wives" Nicole Kidman was remade as a robot "as if you'd notice". The regular James Bond film composer paid tribute to his mentor Barry, the 007 original, and his music showed how skilfully he is filling the master's shoes.
The Royal Philharmonic will present a concert titled "The Music of Bond" at the Royal Albert Hall on Nov. 13 with conductor Carl Davis and presenter Honor Blackman, who played Pussy Galore in "Goldfinger."
Wiseman's selections on Saturday night demonstrated her range and prompted a shake of the head that such a fine score was wasted on rubbish like "Vampire Killers."
Other highlights of the concert were Ron Goodwin's lively main title theme from "Where Eagles Dare," Barry's lovely Oscar-winning main theme from "Out of Africa," and Jarre's evocative "Building the Barn" cue from "Witness."
There were also excellent arrangements by Mike Townsend of Ray Parker Jr.'s "Ghostbusters" and four main themes from American television shows of the 1980s: "Dynasty" and "Cagney and Lacey" by Bill Conti, "L.A. Law" by Mike Post, and "Dallas" by Jerrold Immel.
Listening to those catchy tunes took me back to many days spent on the sets of each of those shows when I was reporting for TV Guide Canada. Good times they were: Lunch with Joan Collins at the 20th Century Fox commissary and at La Scala in Beverly Hills with Linda Evans, who used numerology to predict my fortune.
Drinking with Linda Gray in a bar near the old MGM studios in Culver City. Sharon Gless sending her P.A. out for beer in her little house near the freeway in Van Nuys. Gless poured a beer with lots of foam and looked at me. She said, "You don't mind a little head, do you?"