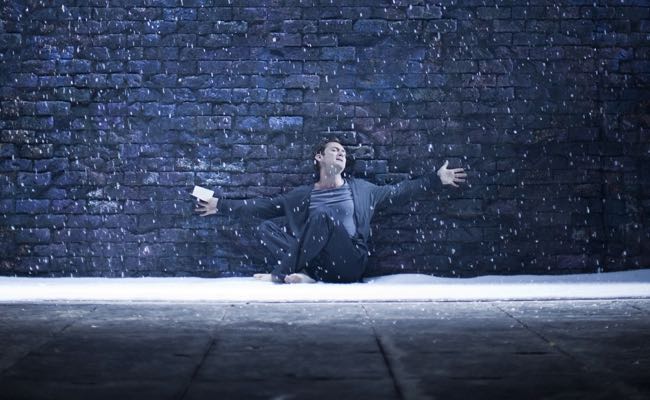 By Ray Bennett
LONDON – Anyone who expects a fey and fragile prince from Jude Law in the Donmar's new West End production of "Hamlet" is in for a surprise as he renders the troubled Dane as rugged and fit, and filled with anger.
It is sometimes overlooked that at the end of the play the crown prince of Norway reckons Hamlet would "like to have proved most royal" and Law shows why with a robust delivery in which his vulnerability is manifested in foul temper.
Delivered while Hamlet sits in falling snow, the "to be or not to be" soliloquy expresses less a querulous contemplation of death than outrage at mankind's fate in general – "What should such creatures as I do, crawling between heaven and earth?"
His fury over the death of his father, the king, at the hands of his uncle, Claudius (Kevin R. McNally) consumes him. But his dismay that his beloved widowed mother, Gertrude (Penelope Wilton, pictured with Law below)) has so soon married her brother-in-law complicates matters to leave him in a torment of inaction until the climactic duel with Laertes (Alex Waldmann).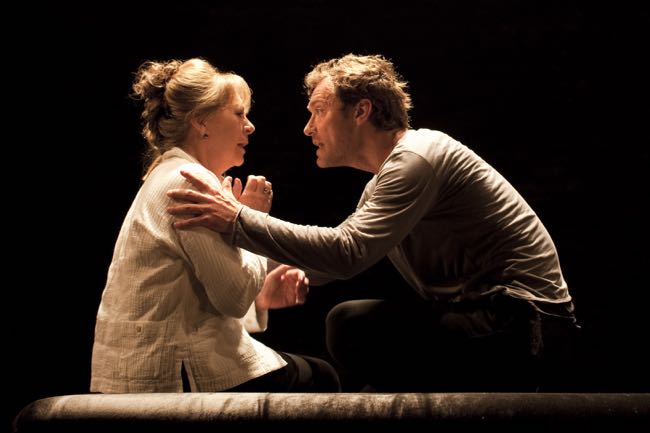 Director Michael Grandage defies Shakespeare and acknowledges Law's star power by opening the curtain on Hamlet sitting silent and pensive in twin spotlights. But if it's a movie star that is drawing the huge crowds to the last show in the year-long Donmar season at Wyndham's Theatre, then at least they will see one who is a genuine stage actor in a production that is clear, passionate and involving.
Wilton is an exceptional Gertrude, demonstrating her shift from gullibility to knowing regret and Gugu Mbatha-Raw is a beguiling Ophelia, sliding sweetly into madness. The moment she begins to sing her addled laments is mesmerizing and chilling.
McNally's Claudius is a bit too matter-of-fact and John McMillan and Gwilym Lee as Rosencrantz and Guildenstern are under served by the direction. Ron Cook wins laughs as Polonius, Matt Ryan makes a stalwart Horatio and Peter Eyre, with his droll delivery, has great fun as the Player King.
Best of the males besides Law is Waldmann as Laertes, Ophelia's grief-stricken brother who seeks revenge upon Hamlet. When the two of them draw blades for their fateful duel, the action is fierce and exciting.
Tall sliding doors opening on a bleak wall at the rear of the stage and billowing curtains at the front in Christopher Oram's clever design, and skilful lighting design by Neil Austin contribute to the play's clean and striking presentation.
Venue: Wyndham's Theatre, runs through August 22; Cast: Jude Law, Penelope Wilton, Kevin R. McNally, Ron Cook, Alex Waldmann, Gugu MBatha-Raw, Peter Eyre, Matt Ryan; Playwright: William Shakespeare; Director: Michael Grandage; Set designer: Christopher Oram; Lighting designer: Neil Austin; Music, sound designer: Adam Cork; Presented by: Donmar Warehouse.
This review appeared in The Hollywood Reporter. Photos by Johan Persson.