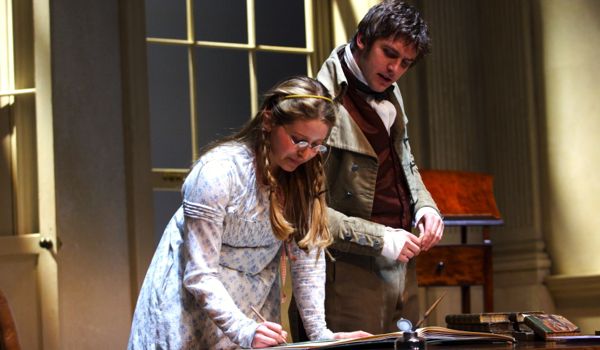 By Ray Bennett
LONDON – There are many terrific productions on currently in London's West End but none is better than the revival of "Arcadia" at the Duke of York's theatre, which is revealed as probably Tom Stoppard's finest play.
Given that the Czech-born British playwright and Oscar-winning screenwriter's output includes such gems as "Tapestries", "Jumpers" and "Rock-and-Roll", that is to really say something.
In "Arcadia," Stoppard achieves the perfect blend of ideas and great comedy so that his intellectual flights are accessible and the laughs are many. Besides a challenge to the brain, it also warms the heart.
The setting is an English country house in Derbyshire where events some time early in the 19th century are being investigated in modern times. Thus there are two time frames. The initial situation involves a supremely bright teenaged girl named Thomasina (Jessie Cave) whose wit and insight constantly surprise her tutor, a lesser poet but a sharp character named Septimus Hodge (Dan Stevens, pictured above with Cave).
Thomasina is inquisitive beyond her years and ready to tackle the scientific theories of Newton and mathematical theories of Fermat. Hodge encourages her brilliance while he dallies with the older women of the household.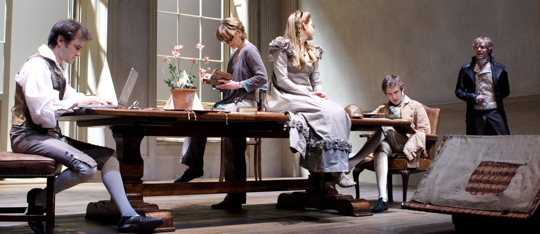 Cut to the present day where an opportunistic scholar named Nightingale (Neil Pearson) is drawn to the house by literary clues that suggest the place was the setting for a duel over Lady Caroline Lamb that involved Lord Byron. Current occupants Hannah Jarvis (Samantha Bond) and Valentine Coverly (Ed Stoppard, the playwright's talented son) meanwhile address the key elements of the second law of aerodynamics.
The scene changes from the present to the past with great ease as Stoppard raises questions of how what is bequeathed by literary and scientific greats serves often only to mystify and mislead future scholars. The playwright's great gift is to write on such a high level of intelligence and wit and take the audience along with him all the way
The sequences in the 19th century also involve the exquisite Lady Croom (Nancy Carroll), who combines serene hauteur with a taste for fun and games in the gazebo. Carroll's performance is delicious and well matched by Cave, Stevens, Bond and Stoppard in particular although the entire cast is in top form.
Director David Leveaux is helped greatly by Hildegard Bechtler's evocative set design and Paul Anderson's lighting.
Venue: Duke of York's Theatre, runs through Sept. 12, 2009; Cast: Samantha Bond, Dan Stevens, Nancy Carroll, Neil Pearson, Jessie Cave, Ed Stoppard; Playwright: Tom Stoppard; Director: David Leveaux; Set designer: Hildegard Bechtler; Costume designer: Amy Roberts; Lighting designer: Paul Anderson; Sound designer: Simon Baker for Autograph; Music: Corin Buckeridge.
This review appeared in The Hollywood Reporter. Photos by Catherine Ashmore