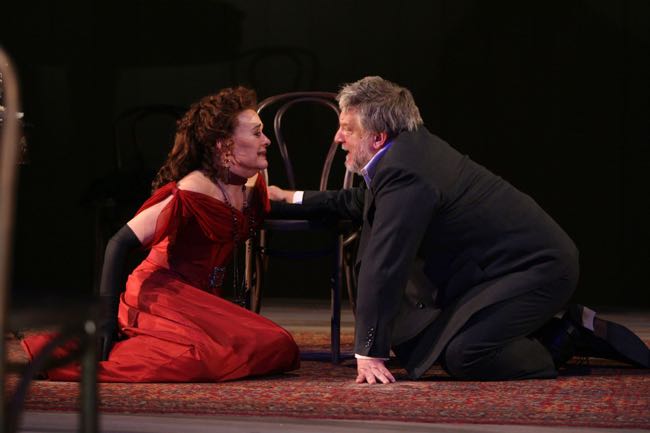 By Ray Bennett
LONDON – Simon Russell Beale leads a splendid British and American cast in William Shakespeare's "The Winter's Tale" and Anton Chekhov's "The Cherry Orchard" as the Bridge Project – which began at the Brooklyn Academy of Music – arrives at the Old Vic.
The two plays, which audiences may see in one afternoon and evening on certain Wednesdays and Saturdays, make up nearly six hours of theater at its best, though 'Winter's Tale" is more satisfying and probably best seen second.
Oscar-winning director Sam Mendes, who was artistic director at London's Donmar Warehouse for a decade before turning to films, has assembled a top-rate cast that includes Ethan Hawke, Josh Hamilton, Tobias Segal and Dakin Matthews from the U.S.; Richard Easton from Canada; Rebecca Hall (pictured with Beale in "The Winter's Tale" below), Paul Jesson and Morven Christie from the U.K.; and Sinead Cusack (pictured with Beale in "The Winter's Tale" above) from Ireland.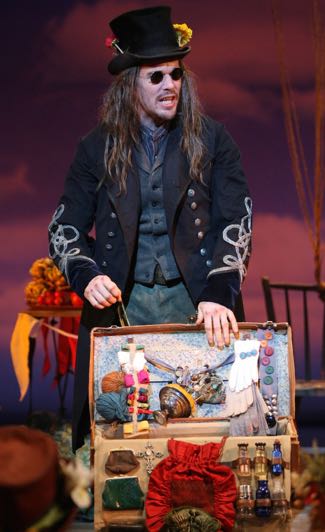 In "Tale," Mendes casts the North Americans as the Bohemians, leaving the Sicilians to those from the British Isles, which means the difference in accents is worked to advantage. But it's not distracting either in the more sober "Cherry Orchard," most notably in Hawke's restrained performance as perpetual student Trofimov compared to his flamboyant troubadour thief Autolycus in the former production.
Both plays deal with aspects of change and loss, particularly of children, and Mendes illuminates those themes, drawing fine performances while employing only props and Paul Pyant's clever lighting to stage many striking images.
Beale reinforces his claim to being the finest stage actor in Britain with a wrenching performance as the mistakenly and vindictively jealous king, Leontes, in "Tale." The statuesque and graceful Hall gives his faithful but condemned wife Hermione grit and determination to match her radiance, and the pair's tragedy is immensely moving.
The play changes mood abruptly just before the intermission, and the second act moves from the sad and bitter Sicilian court to 16 years later in Bohemia. Mendes takes a risk in going for a sort of "Hee-Haw" approach to Bohemian life, and apart from a bawdy balloon dance it works. Hawke (pictured above left) gives a standout performance with a nod to Nicholson and Dylan and helps considerably to make these scenes successful.
"Orchard" boasts a witty adaptation by Tom Stoppard based on a literal translation by Helen Rappaport, but the play suffers from the simple fact that the family of fading aristocrats who are about to lose their neglected property fail to win much sympathy.
Cusack, who makes the stepmother in "Tale" strong and sympathetic, plays the colorful but self-indulgent Ranevskaya with great flair and insight. But the fate of her ignored daughter, Vanya, played delicately by Hall, and the conflicted ambitions of serf-turned-entrepreneur Lopakhin, played wonderfully by Beale, is far more significant than what happens to a bunch of inconsiderate and self-pitying wastrels.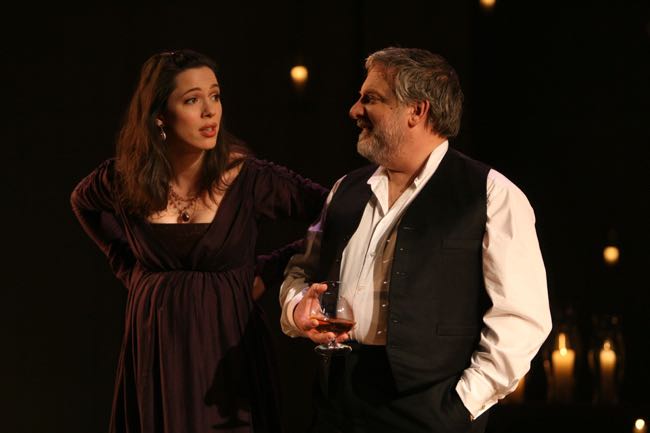 Venue: The Old Vic, runs through Aug. 15; Cast: Simon Russell Beale, Sinead Cusack, Ethan Hawke, Rebecca Hall; Playwrights: William Shakespeare; Anton Chekhov, in a new version by Tom Stoppard; Director: Sam Mendes; Set designer: Anthony Ward; Costume designer: Catherine Zuber; Lighting designer: Paul Plyant; Sound designer: Paul Arditti; Music: Mark Bennett; Producers: The Old Vic, Brooklyn Academy of Music, Neal Street Prods.
This review appeared in The Hollywood Reporter.