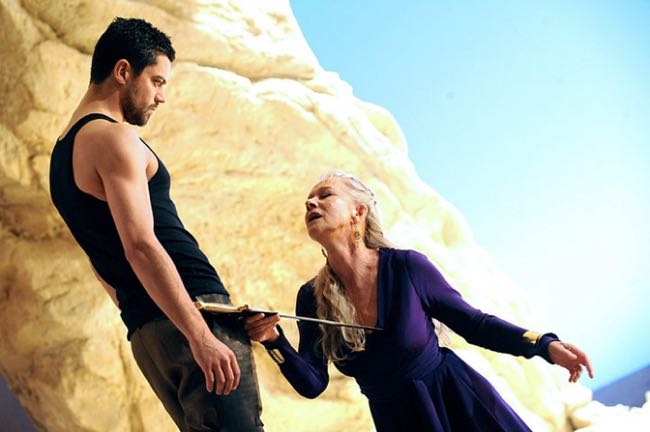 By Ray Bennett
LONDON – The National Theatre's production of Jean Racine's tragedy "Phaedre," in a version by British poet Ted Hughes, is so full of "woe is me" lamentations that when John Shrapnel as Theramene begins his round-the-houses description of heroic Hippolytus' death at sea, you want to ask, "Is this a long story?"
Sadly, it is. Shrapnel does a good job – he roars and he pants – but Hughes crams so much information into the speech with deadening phrases empty of poetry that the torrent of words loses meaning and sounds more like waves crashing on the shore.
But you don't want to know about that. You want to hear about Helen Mirren, who stars as Phedre and is making her first stage appearance in six years, during which time she won an Oscar for "The Queen." Unfortunately, she is ill-served by the text and Nicholas Hytner's direction, and she doesn't come to grips with the subtler elements of her obsession with stepson Hippolytus, played handsomely by Dominic Cooper ("The History Boys").
On Bob Crowley's simmering set, a rocky terrace that looks out to sun and sand, it's a classic Greek tragedy in which Phedre's warrior husband, Theseus, the King of Athens, is reported dead, and the queen's grief gives way to lust for her uninterested stepson.
The problem is that the lust and the flights of fancy that usually result from it are never conveyed. Phedre makes her entrance wrapped in a widow's shroud with her guilt already on high beam. There's little to suggest an older woman feeling young and flirty as a result of her passion. When she reveals her longing to the young man, it's as off-putting as it would be watching a gruesome older man groping a teenager. No wonder Hippolytus is repulsed.
Of course, he's already smitten with the lithe and spirited Aricia (Ruth Negga), so it's a no go anyway. But whereas the deluded Phedre might take that as betrayal, here she's just mildly annoyed until her unctuous servant Oenone (Margaret Tyzack) proposes a sinister solution.
Machinations ensue over who shall inherit the crown, but there are further complications when Theseus (Stanley Townsend) turns out not to be dead and returns to find his palace in an uproar. The rest of the cast does its best, but the drama plays out monotonously lacking sexual tension or much sense of real danger and significance.
Venue: National Theatre, runs through Aug. 27; Cast: Helen Mirren, Dominic Cooper, Margaret Tyzack, John Shrapnel, Ruth Negga, Stanley Townsend; Playwright: Jean Racine, in a version by Ted Hughes; Director: Nicholas Hytner; Set designer: Bob Crowley; Lighting designer: Paule Constable; Music: Adam Cork.
This review appeared in The Hollywood Reporter. Photo: Catherine Ashmore