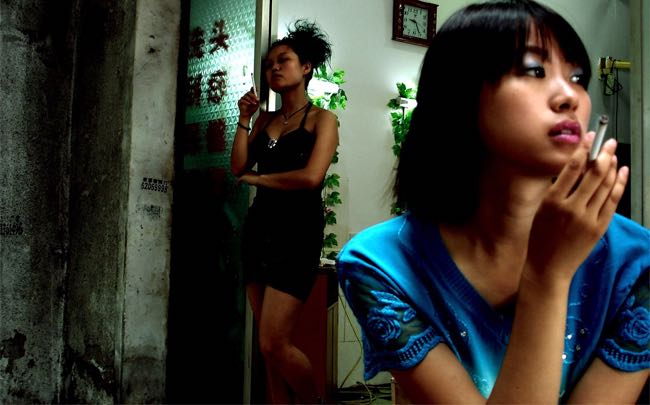 By Ray Bennett
LOCARNO, Switzerland – Chinese filmmaker Xiaolu Guo's "She, a Chinese" is an absorbing character study of a young woman from rural China who makes her way to the big city and then to England in a journey clearly intended to mirror that of her homeland in the modern world.
Beijing actress Huang Lu (pictured, right) is persuasive as Mi Lie, an adolescent whose innocence is robbed before she even sets out from her small village but whose dogged optimism helps her survive despite running into a string of men who offer only disappointment.
Slow in spots and lacking a fully thought through thesis, the film maintains interest because of the actress's enigmatic but engaging skills. Backed by the U.K. Film Council and Film 4, the picture should get decent exposure in Great Britain and may make some headway on the festival circuit.
Mi Lei is a typical teenager who has never travelled more than five miles from her home until an assault by a local thug prompts her to leave for the big city where she gets a job helping out at a brothel. There, she meets a hoodlum named Spikey (Wei Yibo), who takes her in and is kind to her until he comes home one night with a knife in his back.
On a whim, Mi Lei hooks up with a guided tour to the U.K. where she jumps ship and gets a job at a massage parlor where she meets an aging widower (Geoffrey Hutchings) who marries her. But soon she meets Rachid (Chris Ryman), who runs a local Indian cafe, and moves in with him.
The woman's experiences hold attention although it stretches credibility that she could have married without a birth certificate or other papers, and the fact that Rachid is an Indian Muslim is left largely unexplored. What the film really has to say about China's fate in the modern world is not entirely clear.
Venue: Locarno International Film Festival; Cast: Huang Lu, Wei Yibo, Geoffrey Hutchings, Chris Ryman; Director, writer: Xiaolu Guo; Director of photography: Zillah Bowes; Music: John Parish; Editor: Andrew Bird; Producer: Natasha Dack; Executive Producers: Caroline Cooper Charles, Robin Gutch, Jo McClellan, Hugo Heppell, Suzanne Alizart, Will Clarke; Production Companies: Warp X, Tigerlily Films, U.K. Film Council, Film 4; Sales: Films Boutique; Not rated; running time, 98 mins.
This review appeared in The Hollywood Reporter.