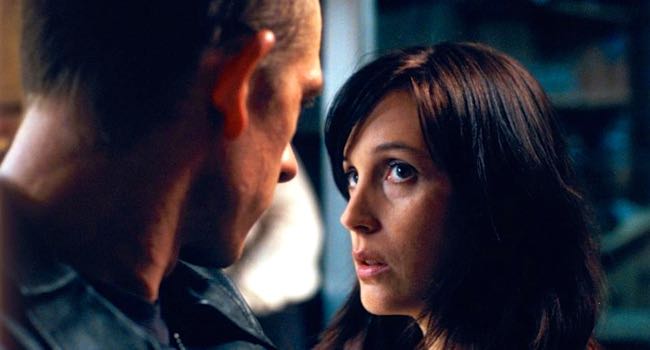 By Ray Bennett
LOCARNO, Switzerland – Sarah Leonor's "Au Voleur" (A Real Life), starring the late Guillaume Depardieu, is an odd little picture that runs along like a somewhat dull tale of petty criminals but in the last third becomes something else entirely.
The fate of lovers who find themselves on the wrong side of the law is hardly new but these two end up on a small craft rowing down an idyllic river and while it probably shouldn't work, good acting and an understated script hold it together. The film could well prosper in art houses and travel on the festival circuit.
Depardieu plays a small-time thief named Bruno who leads a ramshackle existence in a nondescript dwelling on the edge of a city, stealing a car here, breaking into a home there. For an hour, the film plods along as an ex-convict (Jacques Nolot) comes to share his place with the intention of going straight while one of his neighbor's kids gets involved with some boys who buy the car Bruno stole.
At the local bar meanwhile, Bruno encounters easygoing Isabelle (Florence Loiret Caille, pictured), a supply teacher who says she's just passing through and is more than willing for a short-term affair that soon becomes more complicated.
The rustic and idealized last part of the film is sparked when the police nab the boys with the stolen car and it tracks back to Bruno. Learning of his affair with the teacher, they go to the school but Isabelle breaks free and together they go on the lam.
The adjustment in mood takes some getting used to and there is incongruous use of American folk songs on the soundtrack but as Bruno and Isabelle float downstream, the simple freedoms offer more than they had imagined.
It could easily end up stilted and pretentious but even though their tranquil state is soon disturbed, the film suggests that these particular outlaws who have made one or two bad choices, really have the most ordinary human aspirations.
Venue: Locarno International Film Festival; Cast: Guillaime Depardieu, Florence Loiret Caille, Jacques Nolot; Director, writer: Sarah Leonor; Director of photography: Laurent Desmet; Production designer: Brigitte Brassart; Costume designer: Marie Cesari; Editor: Francois Quiquere; Producers: Michel Klein, Laetitia Fevre; Production: Les Films Hatari; Sales: Shellac; Not rated; running time, 96 minutes.
This review appeared in The Hollywood Reporter.