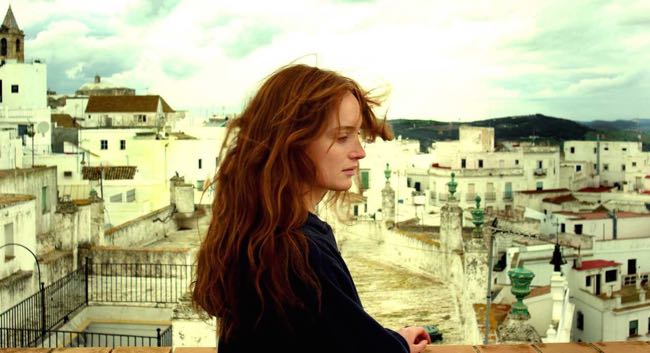 By Ray Bennett
LOCARNO, Switzerland – Holland-based Polish director Urszula Antoniak's "Nothing Personal" is an intensely personal and engrossing tale of a ferociously independent young woman's involvement with a kind widower in a remote part of Ireland.
Lotte Verbeek (pictured) won the best actress prize at the Locarno International Film Festival as a resourceful woman hiking in wild country and thoroughly enjoying her solitude until she stumbles upon a beautiful house by a lake occupied by a genial man named Martin (Stephen Rea), who offers her food for work.
Oblique and enigmatic, it's a film that will win audiences at festivals and in art houses and have a long life on DVD and Blu-ray as fans relish its performances and images, and ponder its deeper meaning.
The woman refuses to give her name or answer any questions about her life and is singularly uninterested in anyone else's life stories. Having hiked and occasionally hitched a ride through wind and rain and camped out in fierce weather, she arrives at a destination she probably didn't know she was seeking.
Curt and indifferent, she slowly allows Martin to offer more than just food as he agrees to her rule of no questions, and after a while she moves into a room in the house. Little is revealed about Martin, although he is clearly well off, dining well with wine at the table each night, besides being a capable gardener and outdoorsman.
Their odd relationship grows as Martin suggests that if he breaks the rule then he has to sing, and when he does, his rendition of a psychobilly country gothic number is hilarious. When the woman finally breaks her own rule, she sings quite beautifully.
The pair's mutual satisfaction with solitude breeds respect and then a kind of love, and while curiosity about each other does crop up, events do not play out in a predictable way.
Rea is typically sympathetic, and Verbeek brings a unique character to life vividly. At 85 minutes, it's a short film that, because of the increasingly absorbing characters, many will wish would go on much longer.
Venue: Locarno International Film Festival; Cast: Lotte Verbeek, Stephen Rea; Director, writer: Urszula Antoniak; Director of photography: Daniel Bouquet; Production designer: Jane English; Music: Ethan Rose; Editor: Nathalie Alonson Casale; Producers: Reinier Selen, Edwin van Meurs; Production: Rinkel Film & TV, Fastnet Films, Family Affair Films; Sales: Bavaria Film International, Holland Film; Not rated; running time, 85 mins.
This review appeared in The Hollywood Reporter.