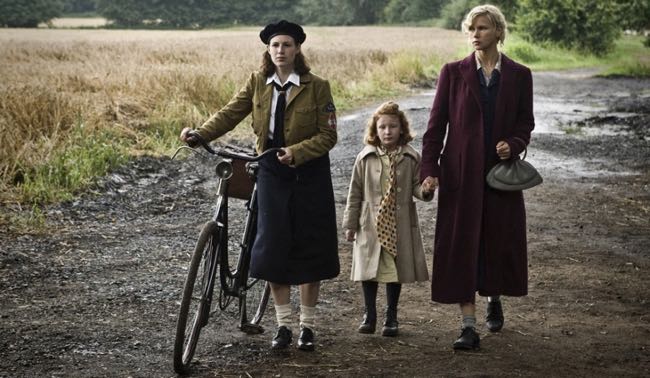 By Ray Bennett
LOCARNO, Switzerland – German cinema's growing number of films willing to address topics relating to World War II has a fine addition in Ludi Boeken's "Under Bauern: Saviors of the Night", which tells of farmers — unter bauern — in Westphalia who sheltered Jewish friends from the Nazis.
The appearance at the end of the picture of characters whose real life stories are related to the subject adds depth to a production filled with emotional power and a constant sense of dread. The film will find an international welcome from audiences who wish to add to their knowledge of the time and appreciate a riveting human drama well told.
Working from a smart screenplay by Otto Jagersberg, Imo Moskowicz and Heidrum Schleef (based on a memoir by Marga Spiegel) director Boeken spurns melodrama in favor of understatement and a clear depiction of events while sustaining an extraordinary degree of tension throughout.
The film begins in 1943 with the Nazis deporting the last German Jews to death camps. Genial horse trader Menne Spiegel (Armin Rohde) won an Iron Cross fighting for Germany in World War I but now his country's rulers want to kill him and his family.
Desperate, he turns to neighboring farmer Heinrich Aschoff (Martin Horn) and his wife Maria (Margarita Broich) who immediately offers to hide Menne's wife Marga (Veronica Ferres) and their young daughter.
Menne elects to move from farmer to farmer, living in dire conditions and mostly in the dark for two years. Under constant threat of exposure from nosy SS officers, over-enthusiastic Hitler Youth and frightened citizens, the Spiegels struggle to get by in their separate hideaways.
The film boasts fine performances and is all the more persuasive because it underplays the dogged strength and loyalty of the rural Germans who reject the merciless extremism of dictatorship and put themselves at grave risk.
Even at the end of the war, with the light of freedom about to bring relief, extraordinary tension remains due to the threat of vengeful cowards, freed war prisoners who go on the rampage, and even the liberating Allies who cannot tell a good German from a bad one.
Venue: Locarno International Film Festival; Cast: Veronica Ferres, Armin Rohde, Margarita Broich, Martin Horn, Lia Hoensbroech; Director: Ludi Boeken; Writers: Otto Jagersberg, Imo Moskowicz, Heidrum Schleef; Director of photography: Dani Schneor; Production designer: Agnette Schloßer; Music: Martin Meissonnier, Max Raabe; Costume designer: Elisabeth Kraus; Editor: Suzanne Fenn; Producers: Joachim von Mengershausen, Karl Baumgartner, Werner Wirsing, Pascal Judelewicz; Executive Producers: Christoph Friedel, Claudia Steffen; Production: Filmform Koln, Pandora Films, 3L Filmproduktion, Acajou Films; Sales: Filmform Koln; Not rated; running time, 100 mins.
This review appeared in The Hollywood Reporter.