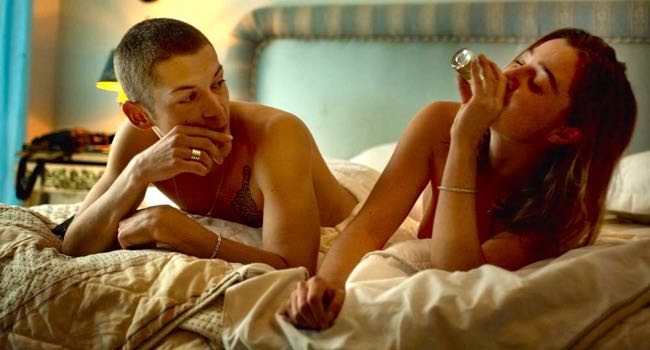 By Ray Bennett
LOCARNO, Switzerland – Swiss director Frederic Mermoud's "Partners" is a police procedural with sex that deals with two sets of couples on both sides of the law involved in the murder of a male prostitute.
The provocative behavior of the two younger characters, who experiment in having threesomes for money, and an intriguing view of the way detectives deal with a key element of the case make the film stand out from the average crime pic. With attractive players and a considerable amount of naked skin, "Partners" could attract attention in key markets.
The tale begins with the discovery of the body of a young man named Vincent (Cyril Descours), whom detectives Herve (Gilbert Melki) and Karine (Emmanuelle Devos) soon discover sold his body online to married men.
The film flashes back and forth from the detectives' trail to the events that show Vincent flirting with Rebecca (Nina Meurisse) in a cybercafe. They become lovers, and when the impressionable girl learns what Vincent does for a living, she suggests they become a team.
That inevitably bad idea leads to the events that result in Vincent's death, something the two officers doggedly track until they face a dilemma only they can resolve.
Director Mermoud and co-writer Pascal Arnold's screenplay makes the behavior of the youngsters just about plausible and gives the detectives sufficient quirks and self-doubts to add depth to the story.
Cagan is especially good at reflecting an inner torment that makes this crime particularly disturbing to him and in conveying the surprise that comes when he sees a chance for redemption.
Although not explicit, the sex scenes contain full-frontal nudity, and the camera lingers on the young bodies perhaps longer than necessary for a film that appears to condemn the exploitation of naive youth.
Venue: Locarno International Film Festival; Cast: Gilbert Melki, Emmauelle Devos, Nina Meurisse, Cyril Descours; Director: Frederic Mermoud; Writer: Frederic Mermoud, Pascal Arnold; Director of photography: Thomas Hardmeier; Production designer: Francois Renaud Labarthe; Music: Gregoire Hetzel; Costume designer: Dorothee Lissac; Editor: Sarah Anderson; Producers: Tonie Marshall, Damien Couvreur; Production Tabo Tabo Films, Saga Production; Not rated; running time, 93 minutes.
This review appeared in The Hollywood Reporter.